Trinidad Guardian
Monday, February 15, 2016 – guardian.co.tt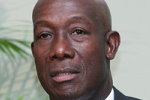 Prime Minister Dr Keith Rowley says Port-of-Spain Mayor Raymond Tim Kee did the correct thing in responding to criticism from the national community. He said Tim Kee's statements following the murder of Japanese pannist Asami Nagakiya were "unacceptable."

Dr Rowley said he felt the mayor had responded as he should and the matter had been properly handled. While he had initially refused to condemn Tim Kee for his remarks, he said after reviewing the full statement on television he realised the comments were unacceptable.
Asked if he had influenced Tim Kee's decision, Rowley said certain concerns were conveyed to Tim Kee in a text message conversation early Thursday.
"I am the father of two daughters. The very first time they played mas they played with Poison for their first Carnival. I would in no way create an environment or conversation where any woman who is harmed is as a result of how she is dressed," he said.
"I feel his comments were clearly unacceptable but he has stated his intention to resign. As far as we're concerned it's been addressed."
Dr Rowley, who thanked Tim kee for his service as mayor, said he had no power to fire or dismiss the mayor. Tim Kee currently holds the position of treasurer in the People's National Movement but the prime minister said the party does not necessarily take responsibility for the conduct of every individual.
"If any one of us in the PNM does anything that doesn't find favour with the public, well then it wouldn't be a gem in our crown but by the same token we don't have to overdo it and, you know, behave as though we are going to carry out a public lynching."
Asked his position on Point Fortin Mayor Clyde Paul's support of Tim Kee, Rowley said he didn't know that it is advisable for anyone to support a view that is clearly unacceptable.
Source: www.guardian.co.tt/news/2016-02-15/pm-tim-kee-did-right-thing