By Sean Douglas
February 11 2016 – newsday.co.tt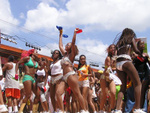 PORT-OF-SPAIN Mayor Raymond Tim Kee yesterday called on women, especially tourists visiting for Carnival, to maintain their dignity and protect themselves against dangerous local sub-cultures, as he reacted with shock over the discovery of a mas woman's body, still clad in bikini and beads, yesterday under a large tree at the Queen's Park Savannah.

The Mayor opined that the discovery of the light-skinned woman — possibly an Asian tourist — was the result of a murder and is an embarrassment to the entire country. Tim Kee was speaking at a news briefing yesterday at City Hall where the results of Downtown Carnival competitions were announced.
"Before Carnival, I did make a comment about vulgarity and lewdness in conduct," Tim Kee related.
"I spoke of some of the things that I see women do, assisted by men of course. But women have a responsibility to ensure they are not abused. I call it 'abuse'. My argument was that you could enjoy Carnival without going through that routine." He said revellers can enjoy themselves otherwise, by maintaining a certain dignity. "When I saw that news this morning, I know that tourists will come here and may not be aware of all the risks of doing certain things or behaving in a certain manner." He mulled the circumstances of the woman's death.
"Was there any evidence of resistance? Was it alcohol-controlled and therefore (were) involuntary actions engaged in? "I could well imagine (when she is identified) what will be said by the country from which she came, about one of their people coming here to participate in our Carnival and end up dead. It is not an accident from any vehicle…no truck bounced anybody. It is a matter that she was jumping up in a costume.
So, let your imagination flow.
"My comment is that this is rather embarrassing for us in the City and it's embarrassing for Carnival," he declared. "I feel that many more advisories should go out to the public, especially for people (tourists) coming here who don't really understand a lot of the culture." Aside from the country's main culture, he said tourists must be warned of certain, "other subcultures