By Stephen Kangal
January 02, 2015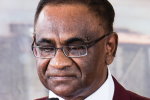 Any PM who claims to be a plain old fashioned leader after delivering a much awaited First Address to the Nation had a duty of care and indeed a political obligation to obtain first hand and as they are articulated, the reaction of the people to his prescription albeit diffused, to the package of adjustment measures that represent his diagnosis of the economic and financial ailment besieging T&T.

The Prime Minister also has an obligation to make himself available to the media in T&T and not Miami- immediately after the injection of ideas to provide clarification on a range of solutions prescribed that needs further amplifications for the benefit of the people so that they can buy into the package of contingency measures designed to ride us out of the unprecedented storm that is challenging the very stability and integrity of Trinbago.
We should not have entered the New Year with these uncertainties still dominating our mind whilst the doctor has flown to Miami to dance the samba and abandoned the patient to his own inventiveness.
Non-verbal communications today is more eloquent than oral and perception is political reality for all of us. Political maturity is needed to ride out this storm or even the plain old fashioned leadership.
Weddings and golf should never enter the equation if you are serious of taking along the people with you in a grand coalition to confront the challenges and obtain consensus on achieving certain mitigating and expiating objectives.
He should have mentioned his private trip to Miami in his address and sought our compliance if he has any respect for us especially Trinidadians because for Tobagonians who are culturally different he can do no wrong.
This trip to attend the wedding in Miami after the one in Barbados sends the wrong signals to us. It has been accorded precedence over the national interest of the people of T&T who are anxious to communicate to the PM what we think of his analysis of the fast advancing storm that threatens our way of life and indeed the way forward for all of us in this vine-yard.
The PM cannot telegraph his lack of vision, concern and helplessness to the challenges ahead by these acts of indiscretion, lack of respect and concern for the people of T&T.
He should have subjected himself to a media conference on Tuesday morning to allow the media to transmit our concerns with the measures that he administered to the population.
The trip is not the issue. It is the timing and the ecology. How and when is more important than what.