By Stephen Kangal
December 23, 2006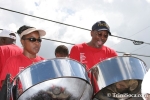 Simultaneous with my recent objections to the notes of the tenor pan being elevated by the National Symbols and Observances Committee (NSOC) to the status of an exclusive cultural symbol to represent the distinctive Indian cultural presence in T&T in the medallion of the OTR and being snowed in by an avalanche of criticisms reinforcing and re-asserting pan as the national instrument, I must now call into question, in this context, Pan Trinbago's "black mail" mantra and/or ultimatum of:

"No Savannah! No Panorama!"
I am now even more convinced that pan is the national instrument of the POS Savannah and not of the rest of multicultural T&T. Why then would Pan Trinbago and the Junior Culture Minister Eddie Hart refuse to travel south of the Caroni River to hold the Panorama Finals in San Fernando even if a million dollar first prize is offered? Is the Savannah the natural habitat and the exclusive home of Pan?
What would the burgesses of San Fernando think when Pan that they now cherish and regard as their own national instrument refuses to come to San Fernando to compete in the 2007 Panorama Finals? Does not San Fernando and the South deserve and can lay claim to the ownership of Pan? Or is the national instrument status conferred on Pan a hoax or a form of deception geared to extract blood money from "panatics", the private sector and the State? Even PM Manning and Culture Minister Yuille Williams seem unable to take pan to Sando even if they dished out millions now and as they have done before.
It is not surprising that both the new Carnival Arts and the Performing Arts Centres will be erected side by side in the Savannah because pan is not going anywhere outside of the Savannah. Pan is first and foremost a POS thing. The center rules and dominates the periphery even today in true colonial-style in spite of the power elite coming from the periphery and south of the Caroni River in an era of independence.
What has Pan Trinbago done to take pan music to delight and entertain the neglected rural backyards especially during the Carnival season to foster and promote a love for the music across T&T? Pan Trinbago is not even keen on taking up the cost-overrun, $7m steel "ajoupa" built on their Orange Grove pan site gift. The declaration of pan as the national instrument in multicultural Trinidad and Tobago by the PNM Government was a political dictat. It was not based on consultations nor on the achievement of any national consensus on the declaration. It was a unilateral imposition designed to justify pouring massive State and private sector resources into pan at the expense of other legitimate musical cultural expressions.
Despite its uniqueness, creativity and distinctive cultural innovation pan cannot and should not be used conveniently to erase and/or marginalise all other cultural symbols from the multicultural landscape of "Dharti Mata" T&T. That will be a form of cultural tyranny. It will be inconsistent with and infringe the multicultural configuration of T&T.
It will also be indoctrination pure and simple being perpetrated by the new minority black ruling elite on the major minority. And Dr.Williams said in 1962 that the minority must give way to the majority in independent Trinidad and Tobago.