By Stephen Kangal
December 25, 2015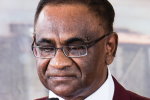 The pathological obsession of the PNM with pre-maturely removing Jwala as Governor of the CBTT has caused them to act in a most irresponsible, reckless, arbitrary and vulgar manner at this the season of goodwill and peace on the earth of Trinbago. T&T is plunged into an air of sadness and deep cataclysmic foreboding. A lamb has been led into the slaughter again even when birth is being celebrated universally.

Here are some of my concerns:
The PNM wrecked my Xmas and that of more than 75% of the population, confused the population and took Christ out of Xmas given its vendetta against Jwala.
It is not clear who, on what grounds and when Jawala was jettisoned so vulgarly and unceremoniously from the CBTT and who signed the Execution order.
He who appoints cannot always disappoint. There is a process and a Constitutional one at that.
Did they give him the chance to be heard in accordance with the principles of natural justice?
Did the Ag President consult the substantive President having regard to the fact that this act of hers will bring the Office of The President into odium and disrepute within the population?
Why conduct this summary EXECUTION on Xmas Eve and then send a most hypocritical Xmas Message Kangaloo so that you can create and generate an audience for Rowley's Tuesday Address?
Are you now irretrievably locked in the jaws of the parasitic oligarchy of big business who is calling the shots and steering the PNM Government into impending disaster and turbulence?
Why did Rowley say that he was going to do nothing against Jwala? Was it to ketch corbeaux alive?
Why is the PNM exposing the Treasury to a costly litigation using its pro-PNM cadre of lawyers and astronomical compensation package post judgment?
Since when Cabinet's directive based on illusions of all-power can override and take precedence over the Parliament, the Constitution, The Court of Public Opinion and the Laws of T&T?
Did the PNM have politically correct Dr Hilaire lined up as a basis to force Jwaia out of office and what role did he play in undermining the integrity of the previous Governor?
Who appointed Dr Hilaire for 5 years and what process was followed including constitutional prescribed consultations?
Why is Imbert treating the people as gullible fools and deceiving himself on the timing of the false and unjust dismissal of the Governor?
Where is the brutal frankness promised?
When are we to expect an Official Statement from the Government and/or The Acting President? Why did not the firing take place after the PM's address on coming Tuesday after the Xmas festivities?