By Renuka Singh
December 24, 2015 – guardian.co.tt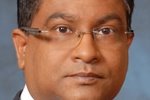 Central Bank Governor Jwala Rambarran has been fired. The T&T Guardian confirmed that Rambarran was dismissed by the Minister of Finance, Colm Imbert yesterday.
Word of this unprecedented dismissal came late last night, but only one day after Prime Minister Dr Keith Rowley said that a Government "ought to have confidence" in any Central Bank Governor. That comment and his refusal to give any ground to Rambarran made clear that he did not have any confidence in the Governor.

Rambarran's dismissal comes after a series of actions that left him in an "untenable" situation, according to Rowley. Just two weeks ago, Rowley said that Rambarran was effectively creating problems for himself by his actions during his time as governor. In a stinging statement to the media, Rowley had then described Rambarran actions as reckless and illegal.
Rowley's harsh critique came after a series of missteps by Rambarran, which brought him into conflict with Imbert. Earlier in December, Imbert criticised Rambarran for announcing that the country was in a recession without first consulting with him. One week later, Rambarran was again chastised for publicly revealing the names of the biggest foreign exchange users in the country.
Adding to the sense of a Governor embattled and under sever pressure to keep his job, was Massy conglomerate's signalling its intention to take legal action against him for that alleged breach of confidentiality.
While Rambarran enjoyed support from the Opposition and even gained support in the form of an online petition to keep him in office, his continued clashes with the Government made his position irretrievable. Rambarran did not immediately return calls to his mobile phone.
The T&T Guardian was informed that deputy Central Bank Governor, Alvin Hilaire will replace him for a five year term.
Source: www.guardian.co.tt/news/2015-12-24/govt-axes-rambarran