By Raffique Shah
December 14, 2015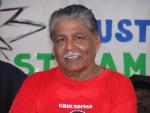 Central Bank governor Jwala Rambarran was the unlikeliest man to kick the hornets' nest, but that he did when he named the firms that used the most foreign exchange (forex) over the past three years.
Amidst a cacophony of complaints from businesses and individuals about being denied adequate sums of forex for legitimate uses, Rambarran went on the offensive by identifying the 18 biggest users.

His revelations elicited praise from ordinary citizens who felt they had every right to know "whey de money gorn". The Government was not amused. Finance Minister Colm Imbert said he was checking to see if Rambarran breached the Bank's confidentiality clauses. And business organisations cried foul over the name-game.
As the brouhaha gathered force, praise and condemnation competed for media space and time.
I think, though, that most people missed the real story in those names and numbers.
It was not about who got what and who didn't. It was all about people's almost insatiable appetite for foreign goods and the nation's multi-billion-dollar over-dependence on things foreign.
What do you think would happen if, tomorrow, the Bank or Government were to say to Price Smart or Massy Stores, "Not another US dollar for you!"
The tens of thousands of trolley-pushing consumers who throng these supermarket chains would riot, move with brute force to overthrow the Government, break down the Bank's door to find Jwala and put a severe licking on him-if he is lucky.
Add to that cauldron short-changing Courts, stifling Smith Robertson (a pharmaceuticals distributor), squeezing Nestle, WITCO, Carib, National Flour Mills….
If you want to see real revolution, make the mistake of tampering with Trinis' right to purchase what they wish with their money.
The root problem is not the "parasitic oligarchy", not the "commission agents", those who buy in bulk (using forex), mark up and distribute, and the retailers who add something more.
The real problem is that oil dollars have reduced us all to "petro-jumbies", a people who have never explored our creativity, our talents, our potential. For generations, we have been lazy slobs, knowing that the oil dollars, down today but up tomorrow, will rescue us from ruin, cushion fuel prices, allow us to enjoy dog-cheap water, electricity, low- or no productivity.
Let me adduce some statistics on spending forex that will show that the 18 firms named by Rambarran are not the main cause of our woes.
The country's average annual imports (visible trade) amount to US $8 billion, or approximately TT $51 billion. Of that, roughly 50 percent are energy related (mostly crude oil for Petrotrin's refinery), meaning that the remaining US $4 billion is used for other goods.
The 18 firms named accessed US $3.462 billion over three years, hence US $1.154 billion a year. That is approximately 25 percent of forex used for all imports. What of the remaining 75 percent?
Well, we know that we eat (literally!) about US $700 million a year in foreign foods, mostly staples but also gourmet items, and much bought at Massy (formerly Hi-Lo) and Price Smart.
According to the Food and Agriculture Organisation (FAO), in 2011 we imported US $48 million in wheat, $47 million in what they call food preparations, $33 million cheese, $32 million alcohol (yes, you read right!), $50 million raw and refined sugar (69,000 tonnes), $17 million pastry, $14 million frozen potatoes (chips, I imagine), and so on.
For ages we have been dreaming of feeding ourselves, which is really a piper's dream.
Try offering your friends ground provisions (which I eat at least twice weekly) or breadfruit/chataigne (a delicacy) or a vegetable cook-up for Christmas! They will cuss you in parang.
In other words, the little local foods we can produce on the remaining unpaved land, our own people, especially the children, hardly eat them. So you end up in the same Massy, or in Chin's or Singh's grocery, pushing a trolley loaded with genetically-modified, forex-paid foods.
We no longer have a thriving garment industry: the few entrepreneurs still in business face mountainous problems, especially as online shoppers, who, incidentally, rack up US $500 million a year in purchases, can stay at home and shop at Macy's.
Local furniture-makers, good craftsmen who produced quality, durable items, must be a dying breed, if not long dead, slaughtered by foreign competition.
The importation of new and foreign-used vehicles (more than US $300 million a year) is absolutely necessary: every family must own at least three cars even if they do not own a house.
And as we degenerate into a sicker society, we must buy more medications and expensive-but-bogus miracle cures, all of which are foreign.
So, you see why I say that we, the society, are the problem.
Unless we intervene with a heavy local hand, foreign go kill we!