By MARINA SALANDY-BROWN
October 08, 2015 – newsday.co.tt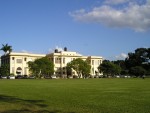 THE RECENT debate of the rights and wrongs of a new UWI law campus being built in Debe revealed some of the complexities of the business of education and unleashed an unusually high level of public discourse.
I use the word "business" advisedly.
I could also add the word "politics". I pose two questions arising from the hornet's nest uncovered by former UWI principal and President of Trinidad and Tobago George Maxwell Richards in his speech at the recent opening of the 2015-16 Law Term. Firstly, what are universities for? Secondly, do we need more lawyers? I share Professor Richards' view that a university's "…contribution depends substantially on the activities of its academics and students to discuss, evaluate, criticise and investigate ideas and thus make available to the policymakers and the community possible options." I would add that universities are where people learn to develop their thinking and knowledge to an advanced level that will serve in the advancement of the human race in all its aspects.

He expressed concern about the "academic isolation" of students at a UWI outpost. If he had used the word "intellectual isolation" he might have attracted less opprobrium since no one could reasonably argue that it is beneficial to cut off students of one discipline from those of different disciplines and aptitudes.
One of the most important aspects of higher learning is the cross-fertilisation of ideas and the growing of a critical mind. Presence at a multi-disciplinary campus may even expose students to other ways of seeing the world that might cause them to change academic direction and to, we hope, reconsider handed-down opinions and preconceptions.
Furthermore, in a multi-ethnic country such as ours, where so much ignorance of one another exists, despite our national cultural celebrations that breed tolerance but not much more, we should consider the counter-productive effect of creating a centre of single-discipline learning where most of the student body is likely to have a similar social, ethnic, economic and religious profile.
I agree that central and south TT should be better developed and that some decentralisation had to take place. I therefore support Prime Minister Dr Keith Rowley moving the Ministry of Agriculture out of Port-of-Spain, for example.
We know too that creating a physical presence for important institutions brings development.
The architecturally delightful Bilbao Guggenheim art gallery in northern Spain, designed by the world famous Frank Gehry, was key in the extraordinary transformation of the depressed post-industrial, cultural backwater into one of the world's iconic art and tourism centres. Similarly, university campuses bring business and development to towns. So, it would be pointless to argue that there is no politico-economic dimension in placing a campus in Penal/Debe.
As for the lawyers, I can only pose further questions: How many per capita do we have? How many more do we need? Many graduate annually, but apart from redistributing wealth (chiefly among the same societal group) and paying taxes on their hefty fees they do not produce anything tangible, so how do we evaluate the return on the cost of educating so many of them? Maybe as our society develops people need more legal help with their private lives and businesses, and our State and its agencies need better legal frameworks, but do we need a whole separate "isolated" campus to produce these professionals? And doesn't our society need people in more "useful" professions? Qualified lawyers are among the brightest people but many of them are attracted by the potentially high earning power. I wonder, though, if TT has enough work to reward them as expected? Maybe we could put some of those good brains to better use.