By Vashtee Achibar
September 27, 2015 – newsday.co.tt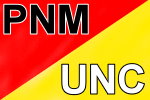 Attorney General Faris Al- Rawi, also the sitting Member of Parliament for the San Fernando West seat, was on Friday served with an election petition at the funeral service for former People's National Movement (PNM) government minister Errol Mahabir.
The funeral service took place at the St Paul's Anglican Church on Harris Promenade, San Fernando and was attended by hundreds of mourners including Prime Minister Dr Keith Rowley, former Prime Ministers Patrick Manning and Basdeo Panday, a line up of government ministers and senators as well as members of Parliament from both sides of the House and a list of other prominent persons in society.

The election petition, in essence, is the petitioner asking the courts to declare the September 7 general election null and void and to grant certain reliefs which include ordering fresh elections.
Two days after the general election on September 9, the coalition People's Partnership (PP) announced that it would be mounting a legal challenge to the results of the general election which it lost to the People's National Movement (PNM). The PNM won 23 of the 41 seats in the general election while the PP won 18.
In a statement, the coalition, comprising the United National Congress (UNC), the Congress of the People (COP), the Tobago Organisation of the People (TOP) and the National Joint Action Committee (NJAC), said it had received legal advice in its challenge to the results.
On September 19, the High Court granted leave to challenge the election results of the September 7 general election in six constituencies relating to the extension of voting for one hour in Trinidad by the Elections and Boundaries Commission. The six constituencies challenged are: La Horquetta/ Talparo (Maxie Cuffie), Tunapuna (Esmond Forde), St Joseph (Terrance Deyalsingh), Moruga/ Tableland, (Dr Lovell Francis), Toco/Sangre Grande (Glenda Jennings- Smith), and San Fernando West( Faris Al-Rawi). The legal team representing the UNC includes attorneys Gerald Ramdeen, Wayne Sturge, Kent Samlal and a yet to be named British QC.
Full Article : newsday.co.tt