Newsday Editorial
September 19, 2015 – newsday.co.tt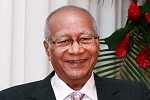 FORMER President George Maxwell Richards must be doing something right. With just one speech, he's managed to upset all sides of the political divide.
Before he had even finished his remarks delivered at the religious service held to mark the opening of the Law Term on Wednesday, detractors wrongly speculated he had made an error; that his remarks were not intended for the occasion.

Hours after, apologists and representatives of the People's Partnership (PP) attacked Richards for supposedly demonstrating a bias against equal access to justice, as represented by the opening of a campus of the University of the West Indies (UWI) in Debe.
At the same time, apologists and representatives of the now ruling People's National Movement (PNM) questioned why Richards, all of a sudden, chose the tenure of Prime Minister Dr Keith Rowley to find the pulpit.
In truth, Richards has been very vocal in the past. Under then Prime Minister Kamla Persad- Bissessar, he was accused by PP advocates of being overly partisan when he voiced concerns over the Section 34 fiasco and delivered critical remarks in speeches at ceremonial openings of Parliament.
The PNM apologists who accuse Richards now of bias to the PP must not forget that it was Richards to whom their political leader went with the infamous "emails" which outlined, among other things, a supposed plot to harm a journalist.
Those who were surprised at the former President's outspokenness have also forgotten that it was Richards who, under former PNM Prime Minister Patrick Manning, appointed a person who was ineligible to serve on the Integrity Commission – a member of the Calder Hart-chaired National Insurance Board. When the public then called for Richards to resign, he blasted the country, accusing it of disrespect.
In the entire hullabaloo, people have lost sight of what Richards actually said on Wednesday.
Richards took great care to deliver as neutral a speech as possible, simply reporting matters which had come to his attention since the new Debe campus opened in July.
Those who question his timing would do well to note that the matter of staffing of the new law faculty could only have arisen recently. The former President expressed no view on the suitability of the location but rather reported on the apparent attitude of staff, an attitude which threatened, in his mind, to isolate students. If his carefully-chosen words infuriated, it was because he did not go as far as some – on either side of the political spectrum – may have liked.
What Richards has done, however, is start or even continue an important conversation about a key issue which calls for attention.
How are the new facilities, opened in a blitz by the PP on the eve of the September 7 general election, to be staffed and administered in the coming days, weeks, months? At Wednesday's event, Persad-Bissessar expressed her own fears that the new Couva Children's Hospital might be left standing empty, a point that resonated from opposition platforms during the campaigning, given staff shortages and other inadequacies existing in the country's health system.
Clearly, Richards simply raised an issue which was possibly left pending by the PP and which now falls to the PNM to deal with. In reporting on the attitude of staff who appear to have a bias against travelling to Debe, Richards has also invited reflection on the appropriateness of such. If indeed staff doesn't want to travel to Debe to fulfil duties to students, this would be an unfortunate travesty, one worthy of the strongest degree of condemnation. We should not shoot Richards, then, for simply being the messenger.