Trinidad Guardian
September 19, 2015 – guardian.co.tt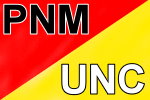 The United National Congress (UNC) has crossed the first hurdle in its challenge of the Elections and Boundaries Commission's decision to extend last Monday's general election voting by one hour due to rainy weather.
Lawyers representing the UNC, which lost the election to the PNM 23-18, last night received leave to pursue their petitions from High Court Judge Mira Dean-Armour after an emergency hearing in the Port-of-Spain High Court which ended after 7 pm.

Media personnel were not allowed in the court for the hearing, which was attended by unsuccessful UNC candidate for Toco/Manzanilla Brent Sancho and EBC chairman Dr Norbert Masson.
In a brief interview after the case, attorney Wayne Sturge claimed the result vindicated former prime minister and UNC political leader Kamla Persad-Bissessar, who first took issue with the EBC's decision after her party's election defeat.
"This is a slap in the face of those who believed that it was frivolous and vexatious. This shows that the rule of law prevails and in due course we will get our justice," Sturge said.
Given Dean-Armour's ruling, the lawyers will now have to file the petitions and will then have to wait for a date for the case to be heard.
"We feel that given past experience this is something that is dealt with expeditiously. We think it should be dealt with in the space of nine months," Sturge said, adding that the eventual decision on the petitions could only be appealed to the Court of Appeal and not to this country's final court, the United Kingdom-based Privy Council.
The UNC was also represented by Gerald Ramdeen. The EBC was not represented by any attorneys during the hearing, which was held ex-parte.
The UNC is claiming that the EBC's rules and the Constitution give the EBC only the power to adjourn an election in instances of public violence and not the power to extend the traditional election timeframe of 6 am to 6 pm. The party is seeking to have the court declare the results in six marginal constituencies null and void. The disputed constituencies are San Fernando West, La Horquetta/Talparo, Toco/Sangre Grande, Tunapuna, St Joseph and Moruga/Tableland.
In the event the party is successful the court may order that by-elections be held or may possibly rule that a declaration that the EBC breached its powers be granted.
Responding to the UNC's initial threat of the petitions last week, the EBC defended its position and said that section 71 of the Constitution gave it autonomy to manage the registration of voters and the conduct of the election in an unfettered manner.
Source: guardian.co.tt