By Jamille Broome
September 06, 2015 – newsday.co.tt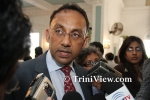 Last week, the Minister of Trade, Industry, Investment and Communications decided to trample on the Constitutional rights of the non-voting section of the electorate, by saying: "I think as we mature as a society, we've got to take a more active part, otherwise, you are not in a position to complain subsequently or to demand anything." Or, in colloquial terms, "vote or hush allyuh damn mouth!" Of course I'm not surprised by Vasant Bharath's irreverent spiel because his party has been known to disregard the rule-of-law and violate human rights, left, right and centre. Cue Bail (amendment) Act, "Section 34", and the State of Emergency .

Nevertheless, according to our (which includes those of us who choose not to vote) Constitution, section 4(e) gives us the right to join political parties and to express our political views. In jurisprudence, this is what we refer to as the "closure rule," which embodies the concept that everything not forbidden by law is permitted by law .
Therefore, the right to join and express, is just as valid as the right not to do either .
Voting is a right, not a duty. It is not compulsory like it is in 22 countries around the world. And there's no "civic duty" of an individual to vote for the betterment of society. Voting is a highly subjective experience, comparable to one's sexual orientation, religious beliefs or absolute autonomy over his or her body. If I choose to be promiscuous or have an abortion, that's my business. If I choose to lead a life of meditation, self-chastisement and celibacy, that's my business .
Equally, if I choose not to exercise my right to vote, that's my business. And no one should be berated, devalued, coerced, humiliated, or bullied for taking a stance. But again, Vasant's party is known for this kind of behaviour as well. Cue Keith Rowley's rape allegation and expulsion.
Full Article : newsday.co.tt