By Peter O'Connor
September 06, 2015 – newsday.co.tt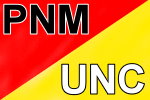 Imagine that you were very thirsty and in front of you were two glasses, each containing a clear, cool liquid. But you know from bitter experience that one glass contains vinegar and the other has brine. Do you sip from one because you feel that it is less bitter than the other? Or do you alternate, and sometimes sip vinegar and other times try the brine? Or maybe, having been fooled by both, leave them there and keep moving wearily on, hoping to find water elsewhere? But the two poisoned chalices remain there, waiting to fool new thirsty people.

The truth is that your apathy in leaving them there makes you complicit in their continued existence.
And helps them to stay, essentially supporting each other.
Because somehow, we have not yet learned how to put a glass of clear, cool water and remove the vinegar and brine. So we walk on, and leave the poisoned chalices as the only option for other thirsty travellers? But what if, instead of drinking what we did not want, or just walking by, we poured the brine and vinegar into the searing hot sand? It is your right to vote tomorrow for the candidate or the party of your choice. But it is also your right to decide not to vote for any of the choices. Not to drink that poison again.
No one who is drinking the poison can condemn you for rejecting it. Especially those who drink what they believe is the least worse option, deluded into thinking that they must drink one or the other. You can walk on if you want. That is your choice, a choice not to drink, to just pass by.
Full Article : newsday.co.tt