By Raffique Shah
August 30, 2015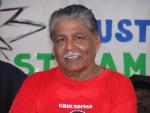 Tomorrow being Independence Day, falling exactly one week before the general election, offers Prime Minister Kamla Persad-Bissessar an opportunity to play one final campaign hand-bestowing national awards on persons she believes can help sway votes in her direction.
Of course, with serious uncertainties over her re-election and a second term as PM, she would also want to give thanks to individuals and organisations that stood faithfully with her through a rough five years during which mistakes, missteps and blunders were as routine as, say, the rising sun.

We can be sure she won't make the near-fatal error she did last year when she went public with plans to give the highest awards to two of her nemeses, Patrick Manning and Basdeo Panday. The fearsome twosome seized the opportunity to embarrass her by publicly rejecting the offer, so the PM will steer clear of such high-profiled foes.
She might, however, be tempted to create some "kuchoor" in the PNM ranks by targeting some balisier stalwarts who seem to have been dumped by the party's new dispensation-Penny Beckles and Errol Mahabir come to mind. If she has, it would by now be a done deal, meaning offer and acceptance, since the names of the awardees will be made public tonight.
Other than the awards ceremony tomorrow night, only the parade adds pomp, and that has remained so routine it has become boring: I shan't be surprised to learn that some uniformed personnel actually doze off during the hours-long proceedings.
What will remain uppermost in the PM's mind as she attends the various functions that her office demands is a haunting question: is this my swan song of pomp and ceremony, my last hurrah as the focus of attention in celebratory affairs of state?
That is a kind of quiet trauma that those of us who have never held high office, who cannot comprehend what it means to wield power, to be at the centre of adulation the way Kamla was five, four years ago, can even imagine.
Great statesmen have often said that life at the top can be very lonely. People look at you as Prime Minister or executive President, especially when you enjoy peak popularity, and think that you are on a permanent high, that you cannot be lonesome or frightened or gripped by anxiety.
How wrong they are.
Of course, people will say, with justification, that you choose to be in politics, to offer yourself as leader of your party, and once you consent to that, being Prime Minister is an almost logical consequence-if your party wins an election.
Sometimes that's the easiest hurdle to leap over, as happened with Kamla in 2010 when Manning all but paved her path to power, possessed as he was by excessive hubris and an oversized ego.
The coming together of disparate forces to form a partnership that offered the battered populace refuge from Manning took her way over the top.
Those were the heady days, the days of wine and roses.
Soon, the days of wrath would dawn, with dark clouds hovering over her every action, some of which were downright foolish.
The decline was rapid. The fall is yet to come.
As she faces uncertain times, I, as one of her critics (as I have been of other prime ministers, from Dr Eric Williams through Panday, Ray Robinson and Manning), feel sorry for her.
It could be that my patriotic genes, hormones, whatever, act up on the anniversary of the nation's independence, I being a genuine product of our independence, a sixteen year-old uniformed cadet on that historic day in 1962, standing in formation outside the Red House, watching larger than life personalities enter Parliament, feeling a surge of pride for the bit part I played at the birth of our nation.
I learned then to respect my leaders. But as I matured, I also learned that our leaders must respect the citizens, whatever their stations in life, and I, for one, demanded that respect from every one of them, from Dr Williams (who made peace with me shortly before he died) to my contemporary, Patrick (born the same year, sharing some similarities), and everyone in between.
It's against that rich nationalist background, and with patriotism oozing through my every pore, that I lament the decline of a younger (than me) Kamla, who never really possessed the leadership qualities that inspired the broad citizenry, but who might have acquired them had she not rendered herself hostage to a gang of plebeian male parasites whose only pursuit in power was self-aggrandisement, pillage of the national purse.
They never did let her rise. And they will savage her if she falls.