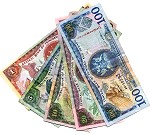 Moody's Investors Service, the credit rating agency that conducts international financial research on bonds issued by commercial and government entities on Thursday downgraded Trinidad and Tobago's government bond rating, and issuer rating to Baa2 from Baa1 and changed the outlook to negative from stable.
According to Moody's, the key drivers behind the downgrade are:

1. Persistent fiscal deficits and challenging prospects for fiscal reforms.
2. Decline in oil prices and limited economic diversification to weigh negatively on economic growth prospects.
3. Weak macroeconomic policy framework given lack of a medium-term fiscal strategy; and inadequate provision of vital macroeconomic data.
At Baa2, the investment grade rating is supported by a strong government balance sheet, underpinned by the country's Heritage and Stabilization Fund (HSF), and also benefits from a moderate and affordable debt burden and a strong external position.
Full Article : trinidadexpress.com
~~~~~~~~~~~~~~~~~~~~
Central Bank: Moody's downgrade unjustified
Statement issued Friday on Moody's downgrade of TT- Central Bank is assuring the international community Trinidad and Tobago remains an investment grade destination and is able to fully meet all its debt obligations. The sound credit worthiness of Trinidad and Tobago's natural gas-based economy is firmly supported by the country's strong net external asset position (including assets in the Heritage and Stabilization Fund), low external vulnerability and stable political system.