Newsday : April 22 2015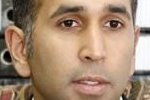 IF YOU KNOCK down a person or an animal, you will have to stop and take them to a hospital or doctor, even if they are unconscious, PNM Senator Faris Al-Rawi said yesterday as he balked at the provisions of new motor vehicle and road traffic legislation.
Speaking during debate of a bill to introduce a new suite of road offences and to implement a Motor Vehicle Authority to replace Licensing Office, Al-Rawi said the legislation was far too voluminous to be considered on the Senate floor.

The PNM Senator also said some of the provisions in the bill were skewed and questioned whether the Law Association had been consulted.
He cited clause 215 which states, "Where, owing to the presence of a vehicle on a road or highway, an accident occurs whereby injury or damage is caused to any person, animal or property, the driver of such vehicle shall immediately stop, (a) if any person has been injured in the accident, the driver shall render such person aid, and if the person wishes to be taken to hospital or to a doctor, or is unconscious, convey or cause to be conveyed the injured person without delay to the nearest hospital or to a doctor."
Al-Rawi said of this, "You are imposing an automatic responsibility that you must get out of your car and you are liable to an offence if you don't take this person to a hospital. You are making somebody carry an unconscious person to a hospital." He noted a person would be convicted of a summary offence and liable to a $5,000 fine. "We do need to revise our laws considerably," he said. "But every detail of this bill needs to be looked at more carefully. This bill does not pass muster. It is not ready to be passed." He said the legislation would ban television in maxi taxis and questioned why this was necessary. Also, some officers from the public service would be exempt from certain provisions.
Al-Rawi said the plan for a causeway to Chaguaramas was six years old and had been sitting in a draw of the Ministry of Works for that time.
At the start of his contribution, the PNM Senator took the unusual step of addressing the presiding officer. He told Senate President Raziah Ahmed, "May I compliment you on your attire today."