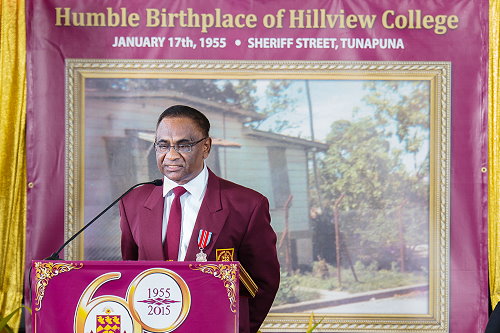 Stephen Kangal
Statement by Stephen Kangal read at the Funeral Service of the late Dr. Clifford Ramcharan held at the Susamachar Presbyterian Church on Saturday 18 April 2015 @ 11.00 a.m.

For many of us life could be measured by and take the form of an inanimate and unsung dash. A dash separates the date of our sunrise from that of our sunset.
That was not so for my adopted father and your brother, veteran Tunapuna dentist, the late Dr. Clifford Ramcharan. He defied the dominant theory and beliefs prevailing in his home-village of Dow Village, California that stated that life was the sum total of the inevitable impact of the forces of karma and destiny.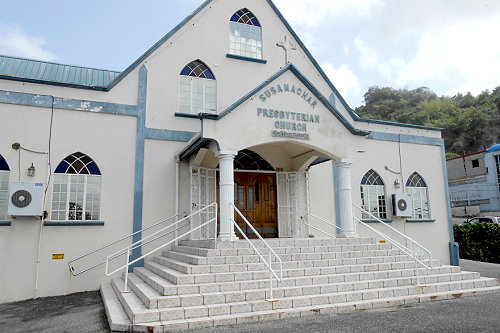 Susamachar Presbyterian Church
For him life was an uncharted and yet to be determined and documented journey. He transformed and elevated his life into a personal jihad geared to reduce and eradicate the scourge of illiteracy inter alia, in Phoenix Park and at Esperanza Presbyterian. His missionary spirit was driven by the pressing need to rehabilitate, educate and guide the rural dispossessed and neglected into the mainstream of opportunity and upward mobility.
Accordingly he straddled and fueled the physical development and student welfare initiatives undertaken by both Naparima and Hillview Colleges. He served on both Boards simultaneously, initiated and funded out of his own resources at times, several scholarship programmes to assist underprivileged students.
As one of the first graduates of Hillview College in 1959 my late father-figure Dr Clifford Ramcharan awarded me a fully funded Naparima College Old Boys Association scholarship to do HC at Naparima College, San Fernando in 1960. This changed the entire course of my future journey of life. It allowed me to make the quantum leap, both real and symbolic from the cane-fields of Caroni to the Court of St. James. There are many more success stories similar to mine that he facilitated.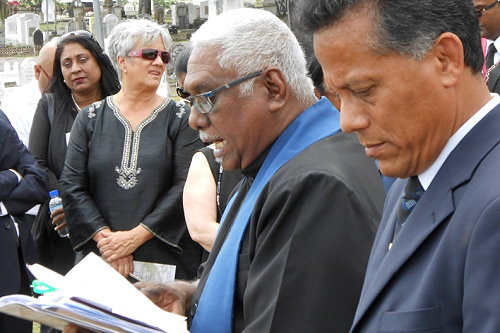 Rev K Sooknarine Conducting the Grave-yard Rites
He cultivated and deepened his relations with the Naparima Community with increasing passion and devotion. It is as if he could not adequately compensate the Presbyterians for according him and his fellow students life-changing quality education. His overriding mission and life-long ambition was to create and generate more opportunities for achieving education and literacy.
My late father could not be contained and restricted within the precincts and obligations of his growing family and of his professional career both mushrooming in Eastern Main Road, St. Augustine. He belonged to the whole of T&T. He touched and changed the lives of many. He had a persistent restlessness against mediocrity. He sought out opportunities to assist several community organizations including his devoted leadership of the Naparima Old Boys Association for several terms.
He has bequeathed to us in T&T an outstanding legacy based on his devotion to making this country a better place to live in the professions, education, politics, human welfare, friendly societies and religion.
Why are his final rites conducted and held in San Fernando, the seat of Canadian Presbyterianism in order to conform to his wishes when he lived almost 67 of his 89 years in St. Augustine?
San Fernando represented for him the cradle for his future life of service to humanity. His decision to be interred in San Fernando is an expression of what this city meant for him – how it influenced and configured the formative years of his life. He made and nurtured life-long friendships in this city. Naparima was in this city. This is the city that equipped him with the tools to cut his way through the jungle of life.
This expression of gratitude and appreciation towards the City of San Fernando is one that I share myself. I studied here for two critical and formative years. I came under the sobering and pervasive influence of the Sammys, Doc Bissessar, The McKenzies's, drama activist James Lee Wah, Hall and Best and dormitory life on the Paradise Hill with boys from far and wide and John Sahadath.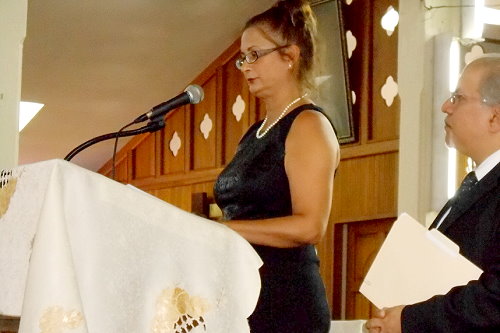 Daughter of the late Dr. Clifford Ramcharan Satu Ramcharan delivering the Eulogy at Susamachar
To my late father figure and mentor, Dr. Clifford Ramcharan you have left a great unbridgeable void in the national landscape. I pray that God will grant you the peace that passeth all understanding. When you arrive at the Gates of Heaven may the Almighty shine His Light upon you and admit you into one of the mansions that The Lord Jesus Christ went to prepare for you.
Farewell! Thanks for the unique journey in which I spent 55 years travelling with you as well as sitting at your feet in fulsome admiration and awe.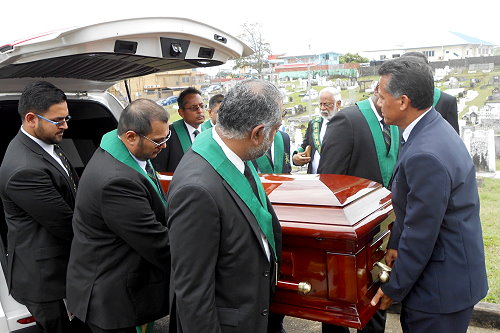 Freemasons In Attendance at Cemetery