PM hints at referendum to decriminalise homosexuality
By Juhel Browne CCN Senior Multimedia Journalist in New York
September 25, 2014 – trinidadexpress.com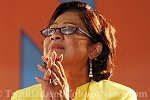 Prime Minister Kamla Persad-Bissessar says the "decriminalisation of homosexuality" in Trinidad and Tobago is not something her administration will seek to do because, "it would not be prudent for the Government to proceed in that direction at this time".
"It's too divided, there's no consensus on that issue," Persad-Bissessar said during an interview-styled forum at the Trinidad and Tobago Investment Forum at Pratt House in New York, USA.

Persad-Bissessar said it is not an issue for the Government to decide at this time but one that "the people must decide".
"And, therefore it may require what is known as a referendum," Persad-Bissessar said.