Sunday, September 28 2014
www.newsday.co.tt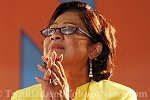 Opposition Leader Dr Keith Rowley yesterday lambasted Prime Minister Kamla Persad-Bissessar for Trinidad and Tobago's co-sponsorship of a United Nations Security Council resolution on the fight against terrorism saying it was best for TT to have passed up on the occasion.
TT cannot afford to declare war on terrorists "at a time when you can stay away, " Rowley said.

The resolution, supported by over 90 countries on Wednesday, was put to the UN Security Council by US President Barrack Obama in New York.
Rowley addressed constituents last evening at the People's National Movement St Ann's East Constituency annual conference at the San Juan North Secondary School in Bourg Mulatresse on a range of issues.
On the issue of TT supporting the resolution in the fight against terrorism, Rowley said "in any international issue, you put Trinidad and Tobago interest first."
When people behead someone "little Trinidad and Tobago has to be careful to walk among the gears and don't get crushed," he said. He said when the backlash comes from TT's sponsorship "they (current administration) know they will not be here to take it."
In his hour-long address, Rowley never addressed the issue of Thursday night's shootings in Laventille in which three men were killed and two others injured, and a subsequent shooting attack on the Besson Street Police.