By Alexander Bruzual
January 07, 2014 – newsday.co.tt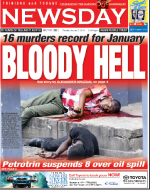 TWO young men were yesterday gunned down in broad daylight next to Nelson Street Girls' RC School in Port-of-Spain on the first day of the new school term — bringing to 16 the number of murders committed in the first six days of January. This, according to statistics, is the bloodiest start to a New Year in the past six years.
In the first six days of January 2008, 15 persons were murdered. The murder rate soared to 547 by December 31 of that year — the highest number of murders ever recorded in a calendar year in this country's history.

At five minutes past midday, when students were on their lunch break at the Nelson Street Girls' RC Primary School, gunshots rang out as Derrick "Warlord" Joseph, 23, of St Barb's and Ishmael Bain, 19, of Snake Valley, Laventille, were cut down in a hail of bullets while they were standing near the Nelson Street entrance to Apartments 43-45.
Joseph was found on a concrete walkway while Bain was lying below in a drain. Both had been shot multiple times in their heads. Officers led by Snr Supt Michael Roban, Insp Sahadeo Singh, Insp Lawrence and Cpl Budree visited the scene. Crime Scene Investigators later recovered several spent shells near the bodies. The area was cordoned off even as residents, some sitting overhead on the rooftops of the apartment buildings, watched as the police did their work.
"When will this madness end? Young men killing young men. That cannot continue. You are destroying your future…the future of this country! Please stop this madness!" exclaimed an elderly man as he gazed at the bodies.
Bain's mother Joan Bain was seen being comforted by female friends who were by her side as she went to identify her son's body. She told Newsday her son was a kind and caring person who however, "fell in" with the wrong crowd.
"It was his friends. The friends he used to have around him. They took him down this path," Joan said. Both men were well known to the police as they had several matters pending before the courts. In fact, police said, Joseph was last seen alive yesterday morning leaving the Port-of-Spain Magistrates' Court where he had a matter. In fact, officers said his copy book which was used to record his reports to the police, was found next to his body.
Full Article : newsday.co.tt