By Stephen Kangal
January 10, 2014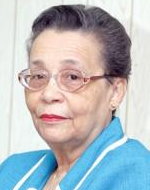 It is with a very heavy but grateful heart that I pay my last farewell to the late Editor-In-Chief of the Newsday, Therese Mills, on her being called in the fullness of time to the great beyond to be with her God after having served humanity notably the small man with a warm and caring heart to the fullest.
The late iconic hero, Therese Mills was the tender loving and gifted lamb that made, forged and fashioned me into a civic journalist. In 2002 she gave me an editorial opportunity by publishing my first Newsday article entitled "Caroni is more than Sugar". Hundreds of articles followed from this inspiring and motivating gesture.

Since then until her sad demise, she provided the wind beneath my sail that kept me afloat.. She is solely responsible for and provided the catalyst for my growth and development into a print media writer and electronic media commentator.
I could always and did rely on the late Therese to give me the editorial break that was necessary to cause the full flowering of my latent writing skills. Thank you mother of many outstanding journalistic careers for making such an immediate and profound impact on so many people within the Fourth Estate.
Newsday under the late Editor in Chief expanded the space given to civic journalism that remained un edited, un-amended.and original in length At one time Newsday carried five and six pages of letters to the editor that were not edited or shortened under her tutelage. She set a trend in encouraging and giving birth to a whole new cadre of civic journalists who owe their reputation to the late Mrs. Mills. It is Mills who pioneered and promoted the art of letters to the editors in its fullest manifestation, opinion forming and its creative best.
We will miss her lowly and imposing presence in the print media but she has bequeathed to T&T a journalistic legacy that is unparalleled, unique and permanently lasting. It is this journalistic niche and contribution to national development that earned her a National Award and a UWI Honorary Doctorate that were eminently deserving and that will sustain, bless, consecrate and embellish her memory for decades to come within the democratic traditions of T&T. The gap that she leaves is unbridgeable and I hope that her daughter Suzanne can fill the void to keep the Mills legacy current and alive.
May God bless the late Mother Mills' good and benevolent soul. We pray to Almighty to shower her with the peace that passeth all understanding, grace and favour for like Abou Ben Adhem she loved her fellow men to the max.
My condolences go out to all relatives, family members, those who are devastated by her sad passing and her supportive and dedicated Newsday Staff members.