By Alexander Bruzual
November 21, 2013 – newsday.co.tt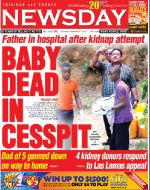 THE search for a two-year-old baby boy ended in tragedy yesterday afternoon after his body was found inside a cesspit located at the back of the child's father's Maracas/St Joseph home.
At about 1.15 pm yesterday police officers from the St Joseph CID and the Maracas Police Station, led by Sergeant Rene Katwaroo, made their way to the home of Allan Thomas, located along Santa Rita Trace, Lluengo Village, Maracas/St Joseph. The officers were responding to a report made by Thomas on Tuesday night, in which he alleged that his son, Jacob Munroe, two, had been kidnapped.

Thomas also claimed baby Jacob was taken by gunmen who allegedly stormed his home at about 12.30 pm on Tuesday, looking for a gun that they said he was hiding.
Police reports stated when Thomas denied knowing what the men were talking about, the assailants ordered the father of two to slit his own wrist with a knife. They then allegedly dealt him several blows to his head, before picking up his son.
The assailants then ordered Thomas to drink a quantity of pitch oil, before ordering him to, "get the gun", or face the consequences. The intruders reportedly left Thomas' home taking baby Jacob with them.
Thomas eventually made his way to the Eric Williams Medical Sciences Complex and up to late yesterday was said to be in a stable condition.
Police visited Thomas' home yesterday afternoon with the intention of using sniffer dogs to see if they could locate baby Jacob or at the very least the scent of the men who allegedly raided the child's father's house. They were met by Thomas' relatives who lived nearby. The relatives allowed police officers to enter Thomas' home which at the time was empty.
However, yesterday when this country joined the world in observing Universal Children's Day, police during a preliminary check of the premises, found baby Jacob's body stuffed in a purple cloth sack in the cesspit at the back of the house. The officers notified their superiors and a party of officers from the Homicide Investigations Bureau and the Northern Division including Inspector Mark Maharaj, Sgt Vetus Hernandez, Sgt Pinder, Sgt Singh, Cpl Jones, PC Grant and others, visited the scene.
Thomas' relatives were seen weeping after they were told of the discovery of Jacob's body by the police. Screams of, "oh Lord, why Lord!" were heard while two women who were outside Thomas' house had to be escorted to their neighbouring homes. The area was then cordoned off as Crime Scene Investigators and a District Medical Officer visited the scene. As time passed, other persons in the quiet, close-knit community learnt the horrifying news that the child's body was found in the cesspit and several persons came out to see what was going on. "Who could do this to a child? That is an innocent. He wouldn't have done anything to his killer. Why would anyone want to harm a child? Monsters! Those kind of people are just monsters! Hold them! Deal with them," a male resident cried.
At about 3.30 pm, baby Jacob's mother Cherisse Munroe arrived at the scene. However, the 20- year-old woman was too distraught to speak to members of the media as she was led away weeping by officers to be interviewed.
Baby Jacob's body was later removed to the Forensic Science Centre, St James where an autopsy is expected to be done today to determine how the child died. Officers said they are looking at "several leads" as they continued their investigations into the tragedy.