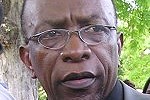 Minister of National Security Jack Warner has resigned and Prime Minister Kamla Persad Bissessar has accepted his resignation.
Works Minister Emmanuel George is to be appointed interim National Security Minister.

Jack Warner's resignation comes on the heels of the damning CONCACAF report which implicated him and his one-time ally Chuck Blazer as being "fraudulent in their management" of CONCACAF.
Official Release from the Office of the Prime Minister:
I have today accepted the offer of resignation of the Minister of National Security, Mr. Jack Warner from the Cabinet of the Republic of Trinidad and Tobago.
I wish to thank Mr. Warner for his service to the government and people of Trinidad and Tobago.
I have advised His Excellency President Anthony Carmona to revoke the appointment of Mr. Warner and to appoint Senator, the Honourable Mr. Emmanuel George as Minister of National Security.
I have also advised His Excellency President Anthony Carmona to assign the portfolio of Works and Infrastructure to the Honourable Dr. Suruj Rambachan in addition to his existing portfolio.
Hon. Kamla Persad-Bissessar, SC, MP
Prime Minister
***
UPDATE: APRIL 22, 2013
Jack steps down as UNC chair
Warner's second resignation in a matter of hours
Warner quits as UNC chairman
..says he will tell all on Thursday
***
UPDATE: APRIL 26, 2013
Jack resigns as MP
JACK Warner, 70, last night announced that he will today advise Speaker of the House of Representatives Wade Mark of his resignation from Parliament as Chaguanas West MP effective midnight tonight, in the process triggering the holding of a bye-election for the seat within 90 days.
In Jack Warner Words
April 25, 2013
"In my meeting last Sunday, I had advised the Prime Minister of my thinking on this matter. I also did tell her that I will want to contest the by-election as a UNC Candidate for the Chaguanas West seat as I am UNC to the bone.
And as such, with events having unfolded as they are to this point, I wish to let you know that tomorrow, Friday, I would be advising the Speaker of the House of Representatives that effective midnight on Friday night I am resigning as Member of Parliament for Chaguanas West.
Section 69 (3) of the Constitution of the Republic of Tobago states that where a vacancy arises in the House of Representatives within the first four years of the life of the Parliament a by-election shall be held to fill such vacancy not later than 90 days from the date of the announcement of the vacancy by the Speaker.
Ninety days from April 25, 2013 will be July 24 2013 and who knows with luck, love and your support, Jack Warner will be back. I know many of you are still crying and I too as well am crying but from inside where it is even more painful. The Prime Minister in our meeting last Sunday even suggested that even if I do offer myself up for re-election I shall win and with your help and support, I too do feel so.
Then together – hand in hand – we shall set right all the wrongs that have been committed. We shall work together to strengthen our UNC and our government and ensure that the people are truly always the first to be served – and that they are served with dignity.
On Saturday a new office sign goes up to replace the Chaguanas West MP sign and then the by-election campaign starts. I will still continue to see people from all walks of life, all over the country, from all walks of life, all over the country, from 1.30 to 5.30 on Saturday. However please be advised that it may take a little longer to achieve success since I will no longer be a Member of Parliament but many of my former Cabinet colleagues have assured me that nothing will change.
On Friday May 24th 2013, a new weekly newspaper shall be launched – Sunshine Newspaper – designed to bring a new hope into your lives.
And come July 24th 2013 who knows, with your love, your support and your understanding, I shall be your MP again.
Originally printed at http://www.trinidadexpress.com/news/In-His-Own-Words-204790271.html