By Cecily Asson and Andre Bagoo Tuesday,
April 23 2013 – www.newsday.co.tt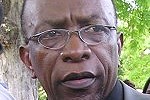 "DON'T cry for Jack Warner…you haven't seen the end of Jack Warner yet."
These were the words of consolation Warner shared with executive members and regular staffers of his Chaguanas West constituency office, following his resignation as chairman of the United National Congress (UNC) and as National Security Minister.

"It is not the end of the world," Warner said as he hugged party members, one by one, at the office Caroni Savannah Road, Chaguanas yesterday. "It is the beginning of a new era…don't cry I tell you."
Warner's resignation as UNC chairman, ended his six-year tenure as a high-ranking member of the Couva-based party.
Warner, 70, stated he will remain an ordinary member of the UNC. He said he was resigning as chairman to prevent any fallout from his resignation from Cabinet amid fraud allegations.
"I think that if by chance my presence in the party was felt in some quarters to be objectionable it would be better for me to be a party member on the floor," Warner told Newsday, before he went to the constituency office.
Asked to describe his relationship with UNC political leader, Prime Minister Kamla Persad-Bissessar, Warner said, "It is still very cordial and why should it not be? In fact, I sent her birthday greetings."
Warner's resignation as UNC chairman came one day after his resignation from Cabinet.
Prime Minister Persad-Bissessar on Sunday accepted Warner's resignation as National Security Minister. That resignation came two days after the findings of a report prepared by former Barbados Chief Justice Sir David Simmons. Sir David's report into the affairs of regional football body Concacaf accused Warner of fraud in his football affairs. Warner has denied wrongdoing and has dismissed Sir David's findings as baseless.
On Sunday, as he left the private residence of Prime Minister Persad-Bissessar, he did so in a Toyota Prado executive SUV equipped with security detail. Yesterday, Warner's arrival to his constituency office was low key — he arrived in a black Nissan Tiida car.
"People are emotional and I must be there to comfort them. I have to be strong to comfort them. It won't do for me to cry or collapse. I have to be strong," Warner told Newsday.
Several "grassroots" supporters including a couple from within the constituency arrived at the locked gates begging the security to let them in but they were denied entry as it was only for executive members.
A woman told Newsday: "I hear it have a meeting and that's why I am here — I want to see Jack."
Following the meeting Warner held a brief press conference where said all will be revealed on Thursday night at Pierre Road, Felicity, at a public meeting he will host, and on Friday in Parliament.
At the head table, he was flanked by UNC vice-chairman Khadijah Ameen, who will act as chairman until that substantive post is filled. Senator Emmanuel George replaces him as National Security Minister.
Warner told reporters he gave his executive committee the background as to the reasons he resigned the two important positions. "I also told them as well that there is no point for them to be vex or angry with anybody or go no any placard demonstration. No 'bring back Jack Warner' protest. I made that quite clear." Several constituents had gathered at the constituency office early yesterday morning, saying they planned to start a campaign to get Warner reinstated as UNC chairman.
Warner went on to give his reasons for tendering his resignation as a government minister. "I resigned, first of all as Minister of National Security because I felt that as a minister of a Cabinet, there has been for the past three, four, five weeks, a concerted effort by certain agencies and people to get Jack Warner.
"I felt enough was enough and I didn't have any reason to get the party or government involved in that." He then said why he also stepped down as party chairman. "I resigned as party chairman because I think there has been external as well as internal factors impacting against me and I felt I couldn't fix the external without fixing the internal. So therefore for me to sit down as chairman and not be comfortable, I prefer to stay on the floor and be a floor member."
Warner revealed that he has not heard from some of his Cabinet colleagues since handing in his resignations – not that he expected it.
"There are some colleagues in Cabinet who will never call me. I am sure you know who they are and if you say you don't, then I don't. But there are some who will call me and they have called me whole day like the 'Gypsies' (Winston Peters), the De Coteaus (Clifton De Coteau), Anil Roberts, Dr (Rupert) Griffith, Fuad Khan, Fazal Karim…those are the people who I expected would have called me. There are some others who would have not called me."
Warner said he was happy that the heads of security all contacted him and praised him for making a dent in crime. "They were high in praise for what I did in the short term of nine months, the talk about Laventille crime is down, the murder rate is better this time than as it was the same time last year," he said.
"That gave me comfort and if I didn't have a chance to finish what I wanted to do with the Coast Guard, the army, the SRP…but I am quite sure someone else will."
Warner dismissed suggestions that he was pressured into resigning. "I left my home (on Sunday en route to Persad-Bissessar's home) with my notes going to resign, going to offer my resignation because I was hearing all kinds of talk."
"I am getting tired," he said, "I have been out here for the longest while. I might have done something wrong in my youth, in my mother's womb. I have never seen such a concerted effort to get rid of one man. There, I am seeing some degree of success," Warner said.
He admitted to being hurt, after reading in the newspaper, that the PM was "stunned" at revelations coming out of the Concacaf meeting in Panama.
"I felt if she was stunned without speaking to me, then it doesn't make any sense…that was the catalyst (for him tendering his resignation)." Warner called the allegations involving Concacaf and FIFA, "so spurious" saying that it has been in the public domain, "since God knows how long."
Now without a ministerial portfolio, Warner said he has the chance to say much more than he could have said while inside the Cabinet. "At the end of the day I felt that I should possibly stay back and look in and have a better chance to see objectively what's happening."
He promised to give an account of his stewardship at Pierre Road on Thursday and is calling on all 19,000 persons who voted for him, to attend and hear, "what I have done and what I have failed to do."
On Friday, in the Lower House, Warner will respond to an Opposition motion regarding the allegations against him.
Warner yesterday promised not to run from the media and also reiterated that he will not undermine the party of which he remains a member.
He said he spent his first full day as a simple MP and ordinary UNC member going for an early morning jog, watching IPL cricket on television, watching a western movie and last night, spending a relaxing evening with close friends.
It was out of respect, Warner said, that he opted not to attend last night's UNC Monday Night Forum in Penal, as he did not want to take away the spotlight from the Prime Minister whom he sent a birthday greeting yesterday.
Now as a UNC MP, subject to the Government Whip, Warner expressed a preference for sitting next to Independent back-bencher St Joseph MP Herbert Volney, who was dismissed from Cabinet last year over his role in the Section 34 affair.
"If I have any say, I would like to sit next to MP Volney," Warner said. "Because that part of the chamber is close to where the PNM leadership resides and I could keep an eye on them. I would get a good view at the back of their heads."
The Government Information Services Limited yesterday issued an advisory on behalf of the Office of the President confirming that Warner's appointment as minister had been revoked. Warner had been a minister since 2010, first of Works and Transport and then of National Security in 2012.
Warner yesterday emailed his resignation as UNC chairman to general secretary Dave Tancoo. The email to Tancoo was addressed to the political leader.
"Dear Political Leader, I refer to the above referenced subject and do wish to advise you that I have tendered my resignation as Chairman of the UNC with immediate effect," Warner said.
"I do wish to thank you and all our Party members for the love and confidence reposed in me these past years and I do sincerely hope that our Party, the United National Congress, can grow from strength to strength, under your leadership. With kindest regards, Jack Warner."
Asked whether he expected Warner's resignation as UNC chairman, Tancoo said, "No, I did not expect his resignation." Ameen said she was surprised by Warner's resignation.
"I was surprised when he resigned as chairman," she said. "It appears that we cannot do anything to change his mind. He had started to do a lot of work."
Ameen was last night due to meet with UNC political leader, Prime Minister Kamla Persad- Bissessar, ahead of the party's Monday Night Forum rally event at Penal, in order to discuss possible measures to deal with the vacancy in the chairmanship.
The UNC chairman is normally elected by the party's national assembly – a body comprising all its members. A special national assembly may have to be called to deal with the chairmanship issue, under UNC party rules.
Asked for her thoughts on being asked to hold on as interim-chairman in these circumstances, Ameen said, "At this time, my thoughts are for the welfare for UNC as a party to continue to strengthen the party. Mr Warner has been a tremendous advocate and chairman of the party and there is sadness within the party to see him resign." She said she would work with Warner in the future. "The way I look at it is what is important is that the work of the party goes on," she said.
On upcoming Local Government elections, she said it was possible that supporters of Warner might withdraw their support from the party because of his resignation from the party and Cabinet.
Ameen said Warner had been instrumental in the party's preparations for the Local Government elections and had attended meetings of coalition chairmen to plan the campaign. She said he had overseen constituency executive elections on Sunday.
Early yesterday morning, emotions ran high outside Warner's Chaguanas West constituency office where there was a steady trek of constituents and non-constituents. Hoping that he would be present, they dropped in to offer their personal support. They were all disappointed however, as the gates to his office were tightly locked. Just after 8 am yesterday, office staff locked themselves inside the office and were not seeing any members of the public.One woman who came to collect a letter was told to return in two days.
Chaguanas Mayor Orlando Nagessar, attorney Carol Cuffy-Dowlat and other unidentified activists were the only ones allowed access to the office using the entrance through the doctors office located downstairs the building to go upstairs.
Shedding tears was Victor Baptiste, 70, of Couva who condemned Warner's detractors.
He cried openly as he said: "I am here to show my support. No one is perfect and all the people who are just accusing, they themselves have done something wrong and they don't want to admit it, but I say their time is coming. The man is a human being. It is unfair."
Rosewatti Khan and her husband Hashim Khan of Iere Vilage, Princes Town were also there.
"I am crying and I don't want to break down now," Rosewatti told reporters. "It hurt me so much to see what happened to him. He is a people's man. Right now it hurt me as if is my child, my brother. Mr Warner helped me. I came here seven times to meet Mr Warner. I came here Friday night and hold on to this gate until Saturday morning when he came here 3 am in the morning. I am grateful to Mr Warner.".
Indal Singh, chairman of La Paille Party Group, has mounted the "Bring back Jack" campaign. Activists are planning to hold mass meetings to get Warner back.
Singh said: "If we are to go through this land, we are going to fight this action tooth and nail – we will be walking with our soldiers and ask them their support to make sure Jack Warner rethinks his position and come back as the chairman of this party, the great party which I helped to build. One link of the chain of the party too much to break."
Another constituent told Newsday that Warner should be judged by his work and his achievements.
"Let FIFA business be FIFA business. Mr Warner is our MP and his track record will show he is no lazy man and he always proves himself."