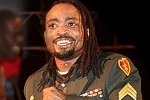 From the article below (the bottom of the first page and continuing onto the second page), it appears that Machel Montano did perform at the "Nine Mile Music Festival 2013" which was held in Florida, Miami on March 02, 2013. There were concerns that his U.S. visa would have been revoked following his conviction last year for assaulting four persons in 2007 outside Zen night club in Port-of-Spain and for using obscene language. Montano was fined on February 25, 2013.

Stephen, Damian, and Julian Marley, 2Chainz, and Future at Nine Mile Music Festival 2013 By Esther Park – March 04, 2013
http://blogs.miaminewtimes.com/crossfade/2013/03/marley_fest_concert_review_2013_miami.php
…the festival became a carnival when Machel Montano, Mr. Fete himself, dropped an intense 60-minute soca set on the Nine Mile crowd. And there is no doubt that MM brings out the flags. The Trinidad & Tobago colors flitted through the audience as he got the fans dancing and sweating in the cold weather. We're sure that if Montano wasn't a soca superstar, he'd make the best Crossfit trainer ever.