By Dr Sheila Rampersad
January 20, 2013 – guardian.co.tt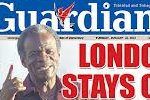 That Indian/African racism and racialism predate Hilton Sandy, that racial baiting has been ubiquitous in T&T politics, and that it is practised by PNM and UNC are by now undeniable truths. So to swelter inside that cocoa house with repetitive back-and-forth accusations of who said what, when, and who responded then but not now and vice versa is unproductive, unhealthy and, quite frankly, unbright.

Politicians are easy targets; it's easy to say they are the ones mobilising racial responses and inflaming Indian/African tensions. Of course, they are blameworthy, doing and saying too much for too long that aggravates tensions and consolidates stereotypes (observe how, while stereotyping the other group, they also often reinforce stereotypes of the group on whose behalf they claim to be acting/speaking).
Continue: guardian.co.tt