By Dr. Kwame Nantambu
January 29, 2013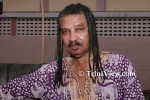 The most revealing end-result of the recent Tobago House of Assembly (THA) election was the salient reality that Tobagonians are different from Trinidadians. And that's what Prime Minister Kamla Persad-Bissessar either never understood or took for granted that the reverse was true.

By way of elucidation, the most detrimental/fundamental and self-destructive mistake that Ashworth Jack, leader of the Tobago Organization of the People (TOP), made was to allow Trinidadian politicians, as in outsiders, to tell Tobagonians who to vote for.
Tobagonians loudly resented that Euro-neo-colonial Trinidad intrusion, period. They emphatically responded that the THA election was to be conducted solely among Tobagonians. It was a local thing– free from outside interference. Furthermore, it was definitely not a Trinidad and Tobago general election.
Truth Be Told: The PNM landslide sweep in Tobago was not a vote against the TOP; on the contrary, it was an overt, resounding vote against the Trinidad-based People's Partnership (PP) government. That must be clearly understood. This PNM clean sweep in Tobago should not be viewed as a mere wake-up call for the PP government. More specifically, it was a death sentence issued by the electorate in Tobago to the extent that they are an independently-thinking people.
In other words, Prime Minister and head of the PP government, Kamla Persad-Bissessar unconsciously and maybe unknowingly, presented the clean sweep to the Tobago's PNM arm on a Olympic gold-plated platter. She never understood the mind-set of Tobagonians.
In this regard, Tobagonians publicly expressed their utmost umbrage at the Prime Minister's accusation of possible skulduggery levelled against one of the island's public officials. That was a big, big no-no, as in massive faux pas.
Tobago was indeed posited as a ward of Trinidad by the Euro-British government in 1889, but Tobagonians vehemently resented this neo-colonial Trinidad continuum at the polls in 2013.
Put another way, Tobagonians told Trinidad politicians to cease and desist from meddling/interfering in their politics, period.
The salient fact of the matter is that it is to be hoped that Dr. Keith Rowley as leader of the PNM and Opposition will not even consider allowing duly-elected THA Chief Secretary, Orville London, to speak on any Trinidad PNM platform during this year's putative local government elections.
Simply put, if Orville London, a Tobago politician, were to appear on any Trinidad-PNM election platform and publicly vilify Jack Warner for his putative multiple nefarious financial dealings at home (FIFA vote payment election scandal at Hyatt Regency) and abroad (Soca Warriors' appearance at Olympics in Germany), then, Trinidad voters would return the favour and reject all PNM candidates, period. The PP government would receive a similar automatic clean sweep in Trinidad's elections a la Tobago's PNM. Dr. Keith Rowley is not that dumb.
Let the record reveal that Kamla Persad-Bissessar became Prime Minister primarily because the Trinidad electorate voted en masse against the ego-tripping, dictatorial modus operandi of then Prime Minister Patrick Manning. That was it. It was definitely not a vote against the PNM. That fact must be clearly understood.
As a corollary, the United National Congress (UNC) under the leadership of Kamla Persad-Bissessar received tremendous support from voters in 2010 primarily because the UNC would have never received one vote if Basdeo Panday was its leader. That must be clearly understood.
Ergo, the Trinidad PNM arm is going to milk this Tobago electoral cow to the nth degree during this year's putative local government elections and drag it out all the way to 2015 for the big national prize.
However, "only time will tell" in Trinidad and Tobago's political landscape.
The bottom-line is that the PP government has now been read the electoral riot act.
From an Afri-centric perspective, it must be concluded that the real cause of the mammoth, albeit deserving, defeat of the TOP was the arrogant, parochial intrusion of the powers-that-be in Trinidad's PP government. In other words, PP government in Trinidad defeated the TOP in Tobago.
Shem Hotep (" I go in peace").
Dr. Kwame Nantambu is a part-time lecturer at Cipriani College of Labour and Co-operative Studies.