By Raffique Shah
August 12, 2012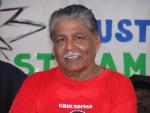 THERE is an afterglow to the Olympic Games, an image or moment in time that remains etched in the minds of hundreds of millions of people who view the quadrennial extravaganza. These indelible memories are often so overwhelming, they capture the hearts and minds of most fans. In my case, I'll always remember the men's 100-metres final in Seoul, South Korea, in 1988 —the greatest race (for me) until this year's edition in London, England.

Who can forget the expressions of surprise, then awe, on the face of the great Carl Lewis as "Big Ben" Johnson thundered to his right then flew past him, almost literally?
How were we to know that Big Ben was powered by steroids when he ran what was the fastest time for the 100 metres until then, 9.69 seconds?
Of course, within 24 hours, we would learn that Johnson had tested positive and would be stripped of the gold medal. Still, for me, his scorching run was the greatest, whether he was on steroids or had eaten yam before the race. I believe, too, that Ben was not the only Olympian of 1988 who had taken steroids; he and his Antiguan doctor were merely the stupidest, incapable of masking the "dope".
Do you remember Florence "Flo Jo" Griffith-Joyner? She was also an unforgettable image from Seoul 1988, and not only because she was pretty, sexy and super fast. The beautifully muscled US specimen won both the 100-metre and 200-metre races in blistering times, setting two world records (10.49 and 21.34 seconds) that 24 years later, remain unbreakable.
Was "Flo Jo" clean?
Officially, yes. But I can't get it out of my mind that while she was a great athlete, maybe she was also smarter than Ben.
There are so many other vignettes coming out of the Olympics, stories of triumph and heartbreak and disappointments; they add to the mystique of the Games. As a distance running devotee, I am intrigued by the exploits of legends like Paavo Nurmi, Emil Zatopek and Abebe Bekele. I cannot, in this limited space, recount their amazing feats for readers. But I strongly recommend that you "Google" their names and read their stories.
I remembered this trio, and so many others like them (I have delved deeply into the annals of athletics), at a rather odd moment in the Olympic Stadium in London last week. The history-making Jamaican trio of Usain Bolt, Yohan Blake and Warren Weir had mounted the podium to be presented with their medals. They were justifiably basking in their achievements that made us all proud to belong to the Caribbean.
In the midst of the excitement, I noticed that the International Association of Athletics Federations (IAAF) representative who was selected to make the presentations was Frankie Fredericks, the great Namibian sprinter, and possibly the greatest African sprinter ever. As the Jamaicans absorbed the adulation from the massive crowd in the stadium, I watched their faces to see if they recognised Frankie, a man who made his mark more in the 200-metres than in the 100-metres.
There was nothing to hint that they did. Frankie was just another official presenting medals. It would have warmed his heart had any of them, but most of all Bolt, acknowledged his eminence. I knew it was not because Bolt is uncaring or insensitive. Quite the opposite when compared with some of his self-consumed, egotistical predecessors, Bolt thrives on mixing with the masses, on making ordinary people feel special.
The Jamaicans ignored Frankie because they did not know who he was. It would have made a difference if one of their team's officials (I think Don Quarrie, another legend, was among them) had briefed the trio on who Frankie was, so they could light up his night. Sure, it was their moment in time, theirs to enjoy. But sharing glory with the deserving always adds value.
In the aftermath of that largely unnoticed incident, it occurred to me that we in Trinidad and Tobago must never ignore our heroes of yesteryear, and more than that, we must put systems in place to ensure that our young people learn about those who have laid foundations in their respective fields. I am dealing here with sports, specifically athletics. But the principle should extend to every achiever or contributor, whatever his or her field of endeavour.
I believe our young athletes are informed about the achievements of Hasely Crawford and Ato Boldon, both of whom have made themselves available to the athletics administrators. But there should be more. From Rodney Wilkes and McDonald Bailey, through the Wendell Mottley, Edwin Roberts, Edwin Skinner and Kent Bernard quartet of Tokyo, Japan, 1964 fame, and Ian Morris (whose 400-metres national record still stands), the National Association of Athletics Administrations (NAAA) should use the services of knowledgeable persons to inform today and tomorrow's athletes of the foundation on which they now compete.
I have not read Dr Basil Ince's The Olympians, but I feel sure the book must be quite comprehensive since Ince is not only an academic but was also a top athlete in his time. Jamaica, too, has a rich history in athletics: Arthur Wint, who won gold and silver in the 1948 and 1952 Olympics, stands proudly in the IAAF's newest edition of its compilation of statistics, alongside Quarrie and Merlene Ottey. Interestingly, Bolt did not make the cut in that volume, which is dated May 2012.
However, now that he has stamped his authority on the sprints, he may well command a chapter for himself in the next edition. There were several "moments in time" in London 2012 that remain memorable: David Rudisha's record run in the 800-metres and Sally Pearson's nail-biting 100-metres hurdles win.
Nothing, however, came close to Bolt's destruction of the best sprinters ever assembled in a 100-metres final. The affable athlete is now truly a legend in his lifetime.