By Radhica Sookraj
August 10, 2012 – guardian.co.tt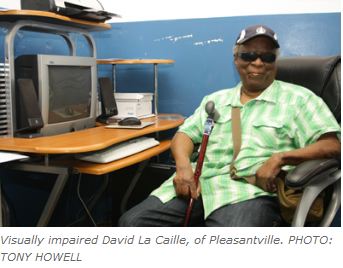 A blind worker is calling for an investigation into alleged discrimination at T&T's state-owned First Citizens Bank (FCB) claiming he was denied a bank card because of his disability. David La Caille, of Pleasantville, said he was amazed at the discourteous service meted out to him when he went to FCB's High Street, San Fernando Branch to open a savings account on Tuesday.

La Caille, who is computer literate, said he requested Internet banking and a bank card from the bank. The teller reportedly conducted the transaction, La Caille punched in his pin and obtained the card. However, after putting the card in his bag, La Caille said the teller told him there was a mistake.
"I handed her the card and then she told me that she was sorry but FCB's policy was that blind people were not entitled to Internet banking or a bank card." La Caille said he got upset and demanded to speak to the supervisor.
However, he said the supervisor's attitude was worse than the teller. "I asked her why I was being denied and she said if I got the card how will I see the machine to use it?" La Caille offered to show the supervisor how he could use the card but was bluntly refused. "She did not want to see. She kept saying that this is their policy. I don't feel good about this because it shows the backwardness of some people. We have been using computers and I have a bank card which I use from another bank," La Caille said. Asked what was his next step, La Caille added: "I will not close down my account. I want to fight this because in this day and age such discrimination must not be tolerated."
Meanwhile, Manager of the Blind Welfare Association Deonarine Ragoo said he intended to personally visit the bank to find out its policy. Ragoo said La Caille's rights were violated as the United National Declaration of Human Rights as well as other national and international laws entitled all blind people to have the same rights as sighted people. The bank's Group Corporate Communication Manager Dexter Charles said he would ensure La Caille got a bank card. He also promised to investigate La Caille's claims of discrimination.
http://www.guardian.co.tt/news/2012-08-09/blind-man-claims-discrimination-san-fernando-bank