By Dr. Selwyn R. Cudjoe
July 03, 2012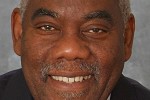 Life in T&T is very funny business. Yo know way yo going; yo don't know where yo' likely to reach. The government declares a state of emergency, arrests over 8,000 black young men under the guises that they are/may be criminals. No charges made, no apologies offered and no compensation paid. In fact, we are told by the AG that if dey tink dey go make any money off the state for these illegal arrests, dey lie. He waiting for them. He would release the legal power of the state against them. They had better not even think about seeking compensation.

Andrew Jennings is an investigative sports reporter who, as a blurb on the back cover of his book Foul! says "has spent years delving into the dark side of the beautiful game" of soccer. In his book, he spends a lot of time documenting the corrupt practices of FIFA – the subtitle of his book is entitled Bribes, Vote Rigging and Ticket Scandals– and some time on the misdeeds of Jack Warner and his son Daryan.
First, Daryan and World Cup 2006. Jennings reports that at a FIFA executive meeting of December 2006 "They reveal that back in June, when Ernst & Young auditors estimated that Daryan might make a 500,000 pounds [approximately 5 million TT dollars] profit from World Cup deals, the Exco had ordered Simpaul Travel to pay back to FIFA a whooping 754,375 Euros [approximately 5 million TT] which FIFA would, in turn, donate to its favorite charitable, SOS Children's Village" (pp. 351-2).
"Come December, the Warners had paid only US$250,000 'despite numerous reminders.' Blatter recommended to the Committee that FIFA should in future allocate no tickets to Simpaul. The Committee agreed."
Jennings quotes an Australian reporter, Jesse Finks who wrote the following: "Warner's whole journey to the top of Caribbean football has been marked by a readiness to abuse his position. He should tell his son to stop? A father-to-son pep talk? The latest lettuce-flogging of one of its most ethically bankrupt executives has shown FIFA has no willingness to stamp out its own endemic corruption" (p. 352).
The operative words here are the allegations of Warner's "readiness to abuse his position" and his being one of the most "ethically bankrupt executives" of FIFA.
This was 2006. Come 2010 and there is a devastating hurricane in Haiti. No sooner than he gets the news, Jack flies to Haiti ostensibly to assist. Later we learn that FIFA contributed $250,000 (US) and Korean Football Association $500,000 (US) to assist the victims of the hurricane. All of the money wounded up in a bank account controlled by Jack Warner.
Most of that money never reached its designation.
In 2012 when the scandal broke, Shaun Fuentes, Press Officer of the Trinidad and Tobago Football Federation (TTFF), announced: "The TTFF acknowledges it is aware of funds made available by both FIFA and the Korean football federation for its football victims of Haiti's devastating earthquake in 2010. However, we are unable to confirm the quantum of funds received, as these monies did not go into the account used by the TTFF administration for its day to day operations, but instead to the TTFF's LOC account as was requested by Mr. Jack Warner."
"The current executive is unaware of how these funds were distributed or utilized and is awaiting the promised audited accounts from Mr. Warner."
Then there was the incident with Mohammed Bin Hammam and the distribution of cash gifts of $40,000 to the heads of CONCACAF which led to Mr. Warner's resignation from FIFA. Even here there seems to be a problem. Police Commissioner, Dwayne Gibbs, says that the case is closed whereas DPP Roger Gaspard says "he never advised the police to stop investigations into allegations of bribery, alleged to have taken place at the Hyatt Regency hotel in Port of Spain on or about May 10, 2011. The allegations involve Works Minister Jack Warner."
To be sure he was not misunderstood, the DPP emphasized that he had not given instructions to stop the investigation. If the Commissioner says so then he "is inaccurately characterizing the advice that I gave."
Now that Mr. Warner is theoretically in charge of the person who has inaccurately characterized the DPP's instructions and who is now forced to do the bidding of the person whom he said was beyond investigating vis-à-vis the contravention of Custom Act, chapter 78:01." But as the DPP says, "he could only advise, not direct, the police to do an investigation."
This is where T&T has reached; how muddled its ethical standards have become; and where an "ethically bankrupt" person is placed at the helm of its security forces? The Prime Minister has concluded that all that has been said and written about Mr. Warner are mere allegations which does not warrant that any pause be given to his being made the Minister of National Security.
In making Warner's appointment, Kamla Persad Bissessar remarked: "It is my respectful view that Mr. Warner is a person of action, and he will be very useful in the Ministry of National Security." She says she spoke to many persons before concluding that Warner was best fitted for the job which calls into question her judgment since the world has already made its judgment on Warner and it's negative.
When Jack, the man of action, landed in Haiti in 2008 to help bereaved hurricane victims, he cooed piously: "My friends have told me that they are hungry and in need of basic human supplies. A tide of hungry humanity surrounds me. How can I not hear their cries for help?"
Jack, it seems, used the misery of that hungry humanity to fill his pockets. One wonders how someone described as "ethically bankrupt" and still under investigation by our own legal system can be asked to solve the growing "lawlessness" (his words) that now engulfs our society.
T&T, as my mother would say, "really reach way we going." It will take more than prayers; Shaq's hoops; and the prime minister's piety to curb a lawless society that inundated our society.