By Stephen Kangal
April 24, 2012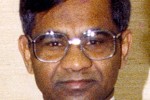 During the recent visit made to her ancestral homeland, Bihari village of Bhelupur PM Persad-Bissessar issued a most profound, conclusive, unnoticed and defining statement on her nature and nurturing en route to becoming Prime Minister. She confessed quite categorically to the Bhelupuris gathered that "…whatever I am today is because Bihar is in my DNA and whatever my ancestors taught me…".

I do not think that the PM was pandering to a Bihari audience by being diplomatically correct. On the face of the statement she would appear to exclude the indigenous T&T impact or socialisation on the moulding/shaping of her personality that contributed to her successful rise to becoming the Prime Minister of T&T. But having confessed that India was grand-mother she reasserted the determining role of her ancestral cultural links in moulding her attributes. I think that the PM developed her political prowess exclusively here.
Hers is a deliberate reversal of the 1962 politically limited statement made by late PM Dr. Eric Williams relating to the exclusive concept of Mother T&T. Dr. Williams stymied by his limited sociological knowledge, attempted not only to erase our several ancestral memory and heritage but to place all the ancestral ethnic ties on the same racio-cultural plane/intensity-the "all ah we is one", melting pot misrepresentation.
How can our PM reasonably and categorically lay claim to have the all-pervasive DNA of Bihar (culture transmitted genetically) in her personality when she was in fact born, socialized and schooled in T&T/Jamaica and therefore susceptible to the principle of the territorial imperative? The answer lies in the concept of cultural persistence/genetic cultural transmission that is the pivot of her complex Indo-Trinbagonian personality. That is to say that 167 years spent in T&T host environment cannot eradicate/replace the 6,000 years of acculturation/ genetic cultural transmission to which the Indo-T&T community has been exposed and which they reinforced orally and via the tenets of Hinduism/Islam.
The PM would have closed an unknown long and nagging chapter in her socio-cultural life having satisfied her longing to know from where in India and Bihar her great grand-father Mishra came. The homing instinct is all powerful. The visit generated in her an overwhelming emotional catharsis. Meeting with her relatives after returning as a successful "nabob" would have overwhelmed them emotionally seeing the tears on all sides.
The Prime Minister appears to have gone through a process of socio-cultural cleansing, purification and reassertion of her Indo-T&T personality that will increase her confidence levels thanks to the warm adulation she received on her Indian safari. Thank you Madame PM for the tectonic and paradigm shift in the tone, tenour and qualitative leap in TT/India relations.