By Stephen Kangal
January 22, 2012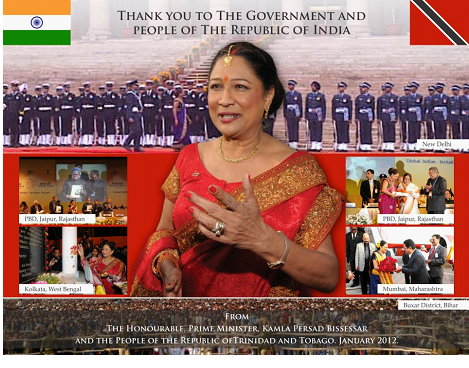 It is patently clear that the staging of the tenth annual Pravasi Bharatiya Divas (PBD) pilgrimage to India by the Indian Ministry of Overseas Indians Affairs is geared and exclusively configured to exploiting and attracting for the benefit of the Indian economy the enormous wealth, political influence and entrepreneurship to be found within the 30 million Indian diaspora. Remittances alone to India amount to over US$50bn annually that is seven times T&T's budget.

Although our Prime Minister in her brilliant address to the Jaipur PBD attended by over 1500 delegates emphasized the benefits of engaging and connecting with the human and financial resources accumulated by the Indian and T&T diasporas I have never been able to persuade the PPG, try as I did at the commencement of the regime, to adopt a diasporic-friendly foreign policy that caters for and includes the welfare of our nationals resident abroad mainly in USA, Canada and the UK. I hope that post-Jaipur will see the concretization of this policy and programme to give meaning and sincerity to her excellent address.
It is clear that the PM is completely sold on the values of an inclusive T&T diaspora position. But at Jaipur she put forward her very pet diplomatic call: that the next PBD should be held in the Caribbean with T&T providing the possible forum/ some funding for this event. This follows closely on her brave statement made at the recent CELAC Summit in Caracas for the Caribbean to be included in the steering committee of CELAC with Venezuela and Cuba. The PPG is conducting a deliberate policy, for which T&T is well-known, that is to say the selective "Caribbeanisation" of our foreign policies.
It is quite clear that the Indian Government having regard to the vertical regimentation and purpose of the PBD will not be amenable to the T&T horizontal diasporic proposal because it will dilute the focus of the PBD to the shared benefit of other countries of the Indian diaspora. That is not the strategic purpose of the Indians because from the programming of the PBD it is exclusively targeting various aspects of socio-economic and industrial development in India that is on the path to becoming the fifth largest economy by 2020.
I commend our Prime Minister for her outstanding and brilliant stewardship at both Jaipur and in Caracas on behalf of the Caribbean and T&T. The sheer intensity of the trade, foreign investment and transfer of technology discussions with the public and private sectors of both countries in tandem that was conducted to coincide with her being honoured as Chief Guest of the PBD represents good value for money diplomacy and inflates our flagging national ego.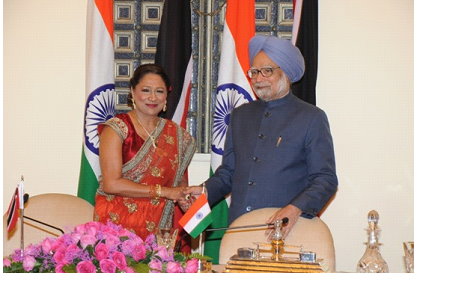 LEFT Prime Minister Kamla Persad-Bissessar