By Stephen Kangal
January 15, 2012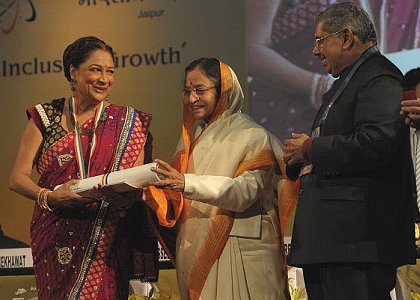 PM Kamla Persad-Bissessar receives the Pravasi Samaan Award in Jaipur
Prime Minister Kamla Persad-Bissessar attempted to touch the feet of The President of India, Shrimatee Pratibha Patil in true Trini Hindu-style of performing the "goar lagay" after receiving the Pravasi Samaan Award in Jaipur. The question is whether she has compromised the concept of the sovereign equality of states and infringed the secular configuration and contours of governance by this Hindu act of humility, respect, diplomacy and submission.

The "Goar Lagay" is a universal Hindu traditional ritual performed by chelas to gurus, children to parents and parents to grand-parents especially after doing "artis". That ritual is based on the view that the feet are in close physical contact with the cosmic energy force of Dharti Mata (Mother Earth) and accordingly touching the feet of gurus/parents is tapping into this energy force to renew and strengthen the cosmic energy manifested in and that drive all our actions.
Having said that India was her ancestral and cultural grand-mother in the opening statement it was consistent for her to touch the feet of The President Head of State of India. This act alone won the hearts of a billion Indians at home and thirty million abroad for T&T.
Accordingly there is nothing secularly objectionable in this act that demonstrated humility, connectivity, ancestral and cultural connexion with India since the Indo-T&T in the PM cannot be separated her official status as Head of Government of T&T that is officially a multicultural society.
The PM amalgamated international politics, state diplomacy and ancestral culture in one grand master-stroke.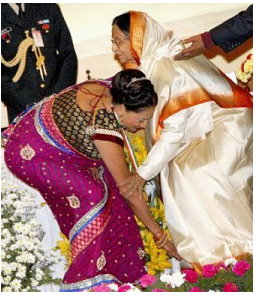 Doing the Goar Lagay to The President of India Shrimatte Pratibha Patil