By Raffique Shah
January 07, 2012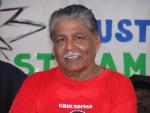 WITHIN recent times, I've had an uneasy feeling that this country is drifting around aimlessly. I sense that in the economic turbulence that has gripped much of the world, we have let go of the rudder of the ship of state, and cast our fate to the wind and the rough seas without even trying to steer a course to safety.

Maybe age is catching up with me. I used to be an eternal optimist, a Trini-to-de-bone who saw only good coming out of anything the world could throw at us. Not now. Not when I see countries far stronger than ours facing insurmountable mountains of debt and the indignity of queuing up at lending agencies where, in another time, they would be behind the counter.
Central Bank Governor Ewart Williams, giving his take on how much of Europe ended up in the hock, said, "Essentially, we are witnessing how years of fiscal indiscipline and its consequence – the unsustainable build-up in sovereign debt – are once again threatening to push the global economy to the brink of the second major crisis in the space of five years."
In our case it's not just the three or four deficit budgets we have carried in as many years. It's not even our current debt stock, which is manageable. I am worried when I hear Finance Minister Winston Dookeran say that the Government intends to keep borrowing in order to stimulate growth. Over the past few months, he has made good on that promise by borrowing at least US$400 million–which amounts to around TT$2 billion. Overall, the country's public debt stands at around TT$40 billion, or 36 per cent of GDP. And it is rising. Recently, Government raised the country's debt ceiling to 65 per cent of GDP.
Dookeran would say we are not in any danger carrying such debts because our economy is resilient and our reserves are healthy. He cites, too, Standard and Poor's recent confirmation of the country's A/A- rating, which is also good. But just how does the government plan to resuscitate the economy? The Finance Minister speaks about attracting TT$24 billion in direct foreign investments during 2012.
In 2010 and 2011, I don't think we managed to attract a quarter of that. The one or two bigger industrial plants that either came on stream or started construction had their beginnings in the boom-years. Carisal, which government is touting as a major initiative, dates from back to 2008 or thereabout.
In spite of pronouncements by successive governments about diversifying the economy, making it less dependent on oil and gas, we have seen little or nothing to suggest that this is happening. The once-robust manufacturing sector is operating at about 60 per cent of capacity, a victim of markets in decline. Agriculture and food production are struggling. Construction is almost at a standstill. Public sector workers face not just a freeze in salaries, but jobs loss.
All of these negatives bring us a full circle, back to oil and gas and the downstream energy sector. And here the picture is bleak. Our oil production has plunged even as prices rise, and gas stutters at levels barely capable of meeting current demands.
On the exploration and production (E&P) side, nothing exciting is happening. When last have newly drilled wells yielded oil or gas that replaced one year's usage of either commodity?
Regarding E&P, we have found it difficult to attract bids for blocks because there are other, more competitive options in our back yard. Our crude oil reserves stand at 728 million barrels. Colombia, a source of crude for Petrotrin's refinery, has 1.9 billion barrels—and counting. Brazil, which only recently broke into the big league, is estimated to have 123 billion barrels. Next door, Venezuela moved ahead of Saudi Arabia with 296 billion barrels. And extensive exploration has taken off in Guyana and Suriname. As it stands, our proven gas reserves, based on current usage, would last us 13 years. Oil, at a reduced production levels, would last 20 years. These grim numbers and prospects frighten me. In contrast, Mr Dookeran seems to be in an upbeat mood, so much so that he recently told a media briefing, "We start 2012 with the knowledge that our basic platform has been set and hopefully this will generate some growth and equity during the course of the year."
The People's Partnership Government came to power in 2010 partly on an "axe the tax" platform. Little or no additional taxes are always music to the ears of corporations and citizens. But in the absence of robust economic activities that bring significant revenues to government's coffers, where will we find money to sustain current spending levels? Why are we spending what we can ill-afford on a non-priority highway? Why is the talk of a tunnel to Maracas even entertained at this time?
If Mr Dookeran believes we can borrow our way into more spending, then I seriously question his reputation as an economist.
Ben Bernanke, a renowned economist and chairman of the US Federal Reserve, addressing that country's deficit spending and mounting debt, said recently, "To the extent that increasing debt is financed by borrowing from abroad, a growing share of our future income would be devoted to interest payments on foreign-held federal debt. High levels of debt also impair the ability of policymakers to respond effectively to future economic shocks and other adverse events."
Et tu, Dookeran? Would your legacy be a debt-hole so deep that generations after ours will be unable to extricate themselves? Tell us, brother.