By Dr. Selwyn R. Cudjoe
September 04, 2008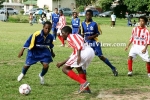 On Tuesday evening, thanks to the generosity of Jack Warner, I attended a soccer game between Joe Public FC and New England Revolution at the Gillette Stadium, Foxboro, Massachusetts, as each team battled to advance to the group stage of the CONCACAF Champions League. Joe Public defeated New England 4-0 in the sweetest Trinbagonian style thereby becoming the first Caribbean team to knock out a US team.

Joe Public was sweet; Gregory Richardson was even sweeter. Although he fell down often, he managed to score a hat trick and assisted in the scoring the fourth goal. In the 17th minute he gained a step on Revolution's Gabriel Badilla and Amaechi Igwe and placed the ball neatly into the nets. In the 45th minute he managed to shoot the ball over the head of Matt Reiss, Revolution's goal keeper, in an almost miraculous manner. Given the angle of the shot, one wondered why Reiss was unable to hold on to the ball or why he was baffled by the shot.
Early in the second half Richardson dribbled a few feet in front of the Revolution's goal post only to flick the ball back to an advancing Roen Nelson who made no mistake and gave Joe Public its third goal. The fourth goal came from Richardson in the 81st minute. Apart from Richardson and Nelson, the performance of Joe Public's goal keep was also superb although I couldn't understand the innumerable ways in which they all crumbled to the ground for supposed injuries.
I was impressed with the Joe Public's style. As with so many things black men do, the emphasis always seems to be on style as well as content. We see this in carnival as a masquerader prances in his costume and then appeals to audience either by way of articulation or inference as he says: "Watch me! How do I look?" We watch Usain Bolt as he shows his stuff long before he arrives at the finish line and West Indians castigate Ato Boldon for saying "if Bolt had not started his happy dance 15 meters before the end, his time might have been 9.59." Ato forgot it was all about style. In basketball, cricket and football, how you score is just as important as scoring itself.
In his book, Hip Hop America, Nelson George put it this way: "For all his individuality, the black man craves a context for that style…It may be at a barbershop, a political campaign, in a church, or a hip hop crew. Sometimes they are simple boys from the 'hood." It is in everything we do: the way we dance, the way we play, and how we represent our dark-skinned selves.
This penchant for style, to represent, and to show-off our stuff (in the best sense) has its roots in the black man's desire to be respected. It is a tendency that is inlaid in the Black Man's psyche. It is inherent in his approach to the world. Although Europeans see pride as one of the seven deadly sins (Lucifer was thrown out of heaven because of it) black men of the West see things differently. George notes: "On a planet where to demonize , demoralize, disdain and dis black people is a long-standing preoccupation, this kind of extravagant pride is often a system of survival." It is a manifestation of our identity and our survival skills.
Flushed with pride and a sense of achievement, Richardson described his outstanding performance: "I can't explain it. It's one of my best performances. It's the first time I ever play MLS [Major League Soccer] team and plus the high stage I just knew they couldn't handle it. My speed alone, I would have killed them."
Check out the last sentence. It is a form of braggadocio; hidden pride; and confidence in his abilities? Richardson had long wanted to play for the MLS but they would not take him seriously. Now he would show them; he would exact his revenge on the MLS. He would get his pound of flesh. He would "kill them." Richardson is from Guyana, a society of less than one million people. Blacks are in the minority but he would show the world what he is made of.
The use of "I" is a powerful word in the vocabulary of black males in our part of the world. The protagonist in Ralph Ellison's Invisible man affirms: "I yam what I am," an allusion to the roots of his culture. In telling our stories and expressing ourselves, we always remind folks that they cannot silence or keep us down. They may keep us down sometimes but as Maya Angelou insists: "Despite the history of pain/We are a going-on people who will rise again."
I love Joe Public's drugging of the Revolution. 3,523 persons attended the match. No more than five hundred West Indians were there but we made our presence felt and took a lot of pride in warriors. Joe Public's victory may not have been a big deal, but once more it revealed the latent possibilities of our nation. More importantly, we did it with style.