By Stephen Kangal
September 03, 2008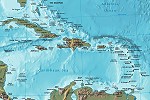 Several reasons can be advanced to support the incremental view that Manning's latest political incarnation totally lacks any semblance of credibility. Readers will recall that in 2004 Manning floated a similar plan to achieve political union with St. Vincent and Grenada by 2007. That plan never saw the light of day.

His current political union aberration now involves an Eastern Caribbean political union with six countries by 2013. That is one year after the 2012 General Elections that Manning acts as if he is guaranteed to win because he does not need the support of the Opposition for the proposed union.
He also does not need the support of either the Opposition or the electorate (referendum) for the requisite constitutional amendments because according to his convoluted and doomed ratio dicidendi a simple majority is all that is needed. The proposed political union will entail the total abandonment of the existing 1976 Constitution to be replaced by an Eastern Caribbean Union Constitution.
With respect to his 2004 edition of the political union with Grenada and St. Vincent, an ANSA McAl poll then showed that more than 60% of the people were opposed to any political integration and 84% of those polled rejected Manning's regional concerns and stance at the expense of domestic rectitude.
Why do these four Caribbean leaders still feel that they can adopt a failed and rejected, top-down, Federation -style approach to political integration without consulting the people? Has Manning ever considered it politically correct to issue a White Paper on his red herring approach to political integration that is designed to distract us from the serious domestic problems that are plaguing T&T and exposing the ineptitude of his governance? Is this union a diversionary political strategy designed to embellish his regional image to compensate for his flagging, Burnham-style lack lustre performance at home?
What is needed is as a first step is an internal study and political initiative that is designed to demonstrate quite cogently to the people of T&T what superior benefits will accrue to them were they to agree to proceed from the economic integration CSME stage to the proposed political union with Grenada, St. Vincent and St. Lucia.
Having recently achieved favourable maritime boundaries against T&T, Barbados will not be keen to dismantle them in a hurry having decided not to send its PM Thompson to the POS meeting. As for Grenada I do not know what mandate newly elected PM Thomas received from Grenadians to be toting the union baggage/MOU of Mr. Manning in his trip up the islands to collect signatures from other Caricom Prime Ministers.
Manning's political union driven by utter disrespect to Caribbean people is doomed to failure.