By Raffique Shah
Sunday, August 24th 2008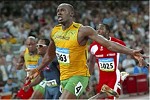 THE Beijing Olympics are coming to a close as I write on Friday morning. Having just savoured the world-record-breaking run of Team Jamaica (4 x 100M in 37.10 seconds) and seen the Trinidad and Tobago quartet win silver, I ask myself: what more can any ardent sports fan ask for? Oh, I felt for the Jamaican women's relay team as the bane of baton-passing struck them out of sure-gold. I didn't feel as hurt for the USA's men's and women's teams that suffered a similar fate yesterday. I write that off to the braggadocio that has become the trademark of the Americans-until now.

They, who dominated just about every sport for much too long, are waking up to the reality that there is a shift in global power, not only politically and economically, but also on the playing-fields and stadiums across the world. If anything, China used the Games not just to showcase its emergence as an economic giant, but to stage one of the biggest and best Olympics ever with hardly a hitch. And the Chinese crowned it off with the most gold medals, as well as the second most overall medals among 205 participating countries.
Indeed, China's "great leap forward" in Olympics medals hunt is astounding. Twenty years ago, in Seoul in 1988, the country with 1.3 billion people at the time, was in 11th standing with five gold medals among its haul of 28. In Beijing, it led the way overall in first position with 83 medals, 46 of them gold (up to last Friday). Bearing in mind the 2008 Games featured 302 events in 28 sports, ranging from equestrian to beach volleyball (blame the Americans for the latter being included!), China acquitted itself well. It not only proved it was eminently qualified to execute a project of this magnitude, but its leaders and people were gracious hosts.
But if China basks in the glory of the Beijing Games, we in the Caribbean can boast of achievements way out of proportion to our size and population. We had no divers, no cyclists, gymnasts, wrestlers, equestrians-and only a handful of swimmers. Hell, of the 28 sporting disciplines at the Games, we took part in two! In track and field, we competed in 23 of 42 events. The distance events beyond 800 metres remain out of our reach, while in most of the field events, except for Cuba, we did not compete. And still, we made the finals in almost every event in which we had athletes. Isn't that a hell of an achievement?
It got even better for us, though. Six of eight finalists in the men's 100-metre, four of eight in the women's equivalent, a blanket finish for the Jamaicans on the medals podium in the latter! The phenomenal Usain Bolt breaking two individual records, the second of which I could have won money on had I been a betting person; Dayron Robles of Cuba smashing his own record in the 110-metres hurdles, Melaine Walker of Jamaica establishing an Olympic record in the 400-metres hurdles. Really, while we can achieve more, much more, the Caribbean has shone as brightly in Beijing as the Chinese did.
Jamaica deservedly copped six gold medals among its total of ten, while Cuba bagged two top spots in its 19-medal haul. Trinidad and Tobago can be proud of our two silver medals: those who expected us to do better know nothing of the sport of which they speak. The Dominican Republic took home one silver while the Bahamas, uncharacteristically, managed only a bronze. Our medals haul would have been even greater if Curacao's Martina did not foul-out in the 200-metres, or the Jamaican women make that awfully bad passing of the baton on their way to victory.
And then there is this boy Bolt. I use the term "boy" not out of disrespect, but because that's what he is, a boy. How I enjoyed watching him from the first rounds, the nonchalance he displayed as those around him false-started, then the ease with which he cruised to victory after victory.
I wonder how many people know that besides the 100M and 200M, Bolt ran a 45-point in the 400M when he was around 16? This signals he has the ability to successfully compete in the one-lap event sometime in the future, not necessarily by 2012. He can afford to wait until 2016! He has time and a wealth of talent on his side, and all-time greatness awaiting him.
I was disappointed when some commentators tried to belittle Asafa Powell. Here's a super-sprinter who had a bad meet, but who can (and will) bounce back. Yet, he is criticised for "not delivering on the big occasion." Bull, I say. Did his detractors watch him in that final leg in the relay? Richard Thompson and Marc Burns have a major advantage over their equally-gifted compatriots: self-confidence! It's a requisite for greatness in any sport. Check out Brian Lara or Dwight Yorke.
Now that the Games are over, we cannot rest on our laurels. It's time for everyone who can help lift our youth from the morass of the killing fields onto the playing fields to do their duty.