August 16, 2008: Usain Bolt wins the 100m Final in Beijing and sets a new 9.69 world record
Lightning-fast Bolt wins Olympic 100m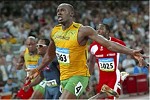 BEIJING – Track and field needs a new hero. It got one Saturday night who can fly. In the most outrageous display of speed to ever burn across the Olympic Games, Usain Bolt of Jamaica rocketed to gold in winning the men's 100m dash in 9.69 seconds — not only a new world record but the first time in the history of human beings a man has run the distance under 9.7 seconds without a significant tailwind.


Bolt wins 100-metre gold, shatters record
Jamaica's Usain Bolt ran an electrifying 9.69 seconds in the 100-metre sprint to set a new world record and take Olympic gold at Bird's Nest Stadium in Beijing on Saturday night.
Bolt strikes like Beijing lightning
BEIJING: Usain Bolt capped his stunning rise to stardom with an Olympic title yesterday and, without even really trying, set a world record in the 100 metres.
August 20, 2008: Usain Bolt wins the 200m Final in Beijing and sets a new 19.30 world record
Bolt is even better than Superman
Usain Bolt left me and thousand of others here in the Bird's Nest stadium in Beijing lost for words after the brilliance of his 200metres run.
Brilliant Usain Bolt is on fast track to history
Usain Bolt has become the greatest sprinter of all time — and he is going to get even better
Dramatic athletics – but Britain beware
In the same way as Mexico City is remembered for Bob Beamon and Munich for Lasse Viren, the athletics in Beijing will be remembered for Usain Bolt. These were Usain's Games, and beyond that, Jamaica's. Nothing could ever top what he did in the 100m, 200m and the relay. Even the other athletes only seemed to want to talk about him.
'My name is Lightning Bolt'
BEIJING–Usain Bolt had the double gold sewn up coming into yesterday's 200-metre final, so he made the Olympics even more magical by conjuring up a world record to emulate the record he set in the 100.