By Raffique Shah
October 15, 2011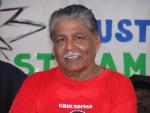 NOT surprisingly, Jack Warner is back in the international news—for all the wrong reasons. When he resigned as one of the most powerful men in FIFA earlier this year, Warner probably thought he had buried his past in the murky waters of Lake Zurich.
But that was not to be. FIFA is not the kind of "brotherhood" from which principal players simply walk away. If or when they do, they are expected to maintain "omerta", the ancient Sicilian code of silence that FIFA has cleverly combined with the Swiss code of banking secrecy.

I thought Jack had complied with these unwritten rules. Since the football faeces hit the fan last year, in the run-up to Sepp Blatter's bid for re-election as president, Jack has maintained a stony silence. He uttered not a word about South Africa's failed bid to stage the 2006 World Cup, which Germany won by a single vote. Nor has he said anything about why, after he hugged and kissed Prince William, David Cameron and David Beckham, he shafted England in their $200 million bid to host World Cup 2018.
No, sir, not Jack. Even when my colleagues in the media poked him about ticket scams in 2006, he cussed, but let nothing secret out of his beanstalk. All he would say is, "In the fullness of time…" Maybe that loaded response, which suggests that sometime in the future he may deal with Blatter, his one-time confidante Chuck Blazer, and other FIFA jefes, is what sealed his fate.
Why else would someone on high choose last week to release a video-clip that appeared to place Jack at the centre of the bin Hammam bribery scandal? It could not be that they wanted to nail some Caribbean "small fry" for accepting US$40,000 each from the Qatari aspirant-turned-pariah. FIFA has such a grip on all aspects of the world's most lucrative sporting discipline, its executive could fry the Caribbean fish in their own fat, if you get my drift.
I think the reason is Blatter wants to have Jack removed from the corridors of power here in Trinidad and Tobago. You see, this latest piece of evidence that implicates Jack puts Prime Minister Kamla Persad-Bissessar in a pickle.
In its 16 months in office, the People's Partnership Government has generated a scandal a month. That's more than the unlamented Patrick Manning regime managed in its truncated eight years in power.
The PM can ill-afford another scandal—and that's what this video-clip has dropped in her lap. Kamla said she has referred the video and the transcript to the Attorney General for advice. However, the PM is herself an attorney, and she admitted to have viewed the video and listened to its contents. She knows that it contains damning implications for Jack, and by extension, for her Government.
Jack has now become an unlimited liability to the ruling coalition. Worse for him, this latest in a string of allegations of impropriety comes at a time when Dr Eric St Cyr resigned as chairman of the Integrity Commission. St Cyr did not commit any offence of note. His sin was he did not know when to shut up, as the late CLR James used to say. He spoke out of turn, not for the first time. Sending St Cyr back to the pulpit is punishment enough for a wayward pastor who strayed into the wrong pasture.
Irony of ironies, though, there was Warner fulminating about St Cyr's sins, advising his one-time lecturer to resign. And when the pastor did, Jack said, "Good riddance!" Is this guy for real? I mean, here he is facing allegations of impropriety a hundred times worse than what St Cyr was accused of, but he chooses to pass judgment on the man.
If anything, Jack should have resigned ten football scandals ago. Long before he was a minister, he had abused British journalist Andrew Jennings on-camera. Jennings went on to show the world, via the BBC, Jack's "bad boy" conduct. And he published a series of very serious allegations against "arkse yuh mudder!" that have gone unanswered.
Which raises another angle to the Jack-saga: in the face of all these statements and published articles that have alleged serious misconduct on his part, why has he never sued a journalist, or the Daily Mail or the BBC? Only last May, Lord Triesman of England, appearing before a parliamentary committee in London, said that Jack requested or demanded a significant sum of money from England's FA as that country pursued its World Cup 2018 bid.
Jack denied the charge, although he admitted to having sought funding for a facility in Longdenville from his English suitors. But he never sued Triesman. Why? If any British Lord, or even a Trini-calypso-Lord, sought to sully my name, I would sue him. But I am a "scrunter" while Jack is well-heeled. He does not need the money, and maybe he does not care about his character.
Now, however, he must care. The long arm of FIFA has reached out to crush him, destroy his political career, his ambition to be Prime Minister, in a most sinister way. The leaked video is damning. It's posted on the Internet. It is taking more hits than a Rihanna chart-topper. And it's portraying Trinidad and Tobago in poor light.
Can we afford to carry this brother any further, or is he too heavy a burden for us to bear? That's a question the Prime Minister must answer, and soon.