By Raffique Shah
September 20, 2021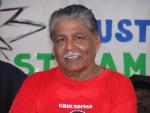 I was hooked to the Caribbean Premier League cricket tournament over the past two weeks, from the opening match between the Trinbago Knight Riders and the Guyana Amazon Warriors to the thriller-of-a-final in Warner Park between the host's St Kitts-Nevis Patriots and the St Lucia Kings, that went down to a last ball decider. As is normal for me when I feast on sports, I look beyond the participants and their performances. In CPL cricket, I find not just entertainment and scintillating skills, but more importantly, from my perspective, a panorama of Caribbean life that can teach Caribbean societies lessons in race relations and class compression.

One factor that stood out for me was the ethnic composition of the teams, a range of skin-colours that spoke volumes of the diversity in these small island-states that comprise the Caribbean. There was a majority Afro-stock, and understandably so, since the region was the focal point of the slave trade.
Then there were Indians, again of varying hues, from very dark, almost black, to very fair, almost white. The majority of these came from Trinidad and Tobago and Guyana, two islands that accommodated the most indentured immigrants from India.
In these two countries, the politics of race dominates any discussion. The divisions are so sharp, there is constant tension, between the two races and their parties. Sometimes the tension turns nasty, erupting in violence, as happened in Guyana on several occasions.
But here am I watching these young men over the two-week tournament, and I see no racial tension, no animosity, nothing of that sort. In fact, I am watching family units with ties that appear strong, as they engage each other in their bids to emerge victors. Sunil Narine is applauded as he takes the ball through four overs, weaving magic from his wrists, much to the delight of his Afro-captain, Keiron Pollard, and his teammates. In the Guyana team, there is much respect for young Nicholas Pooran, who is captaining that team with some sterling performances from his bat and behind the stumps. Shimron Hetmayor opens their batting, and they are all urging him to plunder the bowling of the opposition, who might be Ravi Rampaul or Narine or from the imports from Pakistan or Sri Lanka.
If this brotherhood exists here, in this instance among the best cricketers in the Caribbean, and between them and their guest players from New Zealand, South Africa, Sri Lanka, Pakistan and elsewhere, I ask why can it not be transferred to everyday life in their respective countries? Why love on the cricket fields of play, but bitterness, even hatred, on the politically-delineated streets where they live?
I sense that friendships forged in sports endure beyond the boundaries of race and other divides that men superimpose on societies. Those among us who are hooked on events such as the Olympic Games and World Cup football would know of the friendship between legendary US super-athlete Jesse Owens and his main rival in the long jump from Germany, Luz Long, that began at the Berlin Olympics in 1936. Owens, who faced racial discrimination in the extreme in his own country, came up against Long in the long jump. Owens wrote that he experienced some problems in qualifying for the final, and Long shared some tips with him. They embraced after Owens won the event, Jesse claimed in his book that their friendship endured. However, Long served in the German military during the World War that followed, and was killed in battle in Sicily in 1943.
Whatever the truth, that he (Long), a symbol of Aryan superiority, embraced a black man who had beaten him in the jump, that while Hitler sat in the stadium, speaks of how sports can overcome political pettiness.
In another more poignant incident, that of black Americans Tommie Smith and John Carlos defiantly punching their gloved fists in the air, a Black Power salute at the Mexico City Olympics in 1968 after winning the 200m race two points of interest are often ignored, second-place winner Peter Norman of Australia who was part of the protest was banned for life in athletics in his home country. Smith and Carlos had communicated with Norman and maintained a strong friendship with him that lasted until he died. They were pall-bearers at his funeral.
What is omitted from the iconic photo is Trinidadian Edwin Peewee Roberts who was edged out into fourth place. I don't know that Peewee would have been bold enough to do what these three men did. But Trinidadians are known for standing up for what is right when it counts most. Roberts might just have joined the protest had he placed in the top three.
(More on Peewee Roberts and all T&T track and field athletes can be found in the recently published book, Trinidad and Tobago Athletics History, compiled and written by Bernard Linley and edited by Jan Westmaas).