By Birdie McClean
September 17, 2021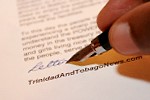 Nicki Minaj put out a tweet on Tuesday that caused a firestorm of reaction and put Trinidad smack down center of the global news. This is what she tweeted. "My cousin in Trinidad won't get the vaccine cuz his friend got it & became impotent. His testicles became swollen. His friend was weeks away from getting married, now the girl called off the wedding. So just pray on it & make sure you're comfortable with ur decision, not bullied" 5:44 PM. Sep 13, 2021.

Medical scientists and specialists in the field immediately countered that misinformation, saying essentially that it was nonsense and unsubstantiated. Dr Fauci, the well-known physician-scientist and immunologist who is the Director of the National Institute of Allergy and Infectious Diseases in America, "responded to Minaj's vaccine scepticism during a CNN interview on Tuesday, saying that it was a "resounding no" that vaccines cause reproductive issues." "Dr Fauci, is there any evidence that the Pfizer, the Moderna, or the J&J vaccines cause any reproductive issues in men or women?" Jake Tapper asked Fauci. "The answer to that Jake is a resounding no. There's no evidence that it happens," Fauci responded. -Aaron Rupar (@atrupar) September 14, 2021
However while the medical and scientific fraternity rubbished her claim, Republicans, right-wing extremists, white supremacists and QAnon followers praised and glorified Minaj for her claim. Tucker Carlson of Fox News for example, who has the number one cable news show in America, and who has been described by the Southern Poverty Law Center in this way, "Carlson probably has been the No. 1 commentator mainstreaming bedrock principles of white nationalism in [the U.S.]", praised Minaj's tweet. Carlson has pushed a number of extremists views on his show including, the "white replacement" theory, the need for voter suppression of blacks, browns and immigrants, and racist views in general. He is, one may argue, the most influential purveyor of white supremacist's views. He also thinks the coronavirus and the vaccines used to prevent it are big hoaxes. Recently he has admitted that he lies on his shows to further his ideas. Carlson has praised Minaj's tweet.
Tucker Carlson said on Tuesday: "Before we get to the next segment, we haven't been able to figure out whether this show is broadcast in Trinidad. But if Nicki Minaj's cousin's friend is watching, or his former fiancée is watching, we want to hear your story. We'll come to Port of Spain to see you." On his Monday night show, Carlson praised Minaj for her tweet, saying her view "seems sensible."
The white nationalism that Carlson propagates is a global ideology that has become almost mainstream in Europe, America and in many other countries, it has been taken up by right-wing extremists. Surprisingly they have allies among black, brown and other "non-white" folks. How can we understand this? White supremacists think that they are fighting a rear-guard action, a war really, against the rising tide of "non-white" peoples who are literally replacing them in Europe, America, Canada, Australia, etc. (the replacement theory), countries that were well established white countries. Immigration, both legal and illegal, has put an end to that. They are fighting to establish policies that will return those countries to white majority, in fact, to ideally white only countries. They believe that the demographic trends will lead to them being minorities. So they are fighting a war against those policies that encourage or at least don't prevent those demographic trends. They believe that liberal policies, multiculturalism, immigration, voter rights for blacks, browns and other non-white peoples encourage those trends. So they are engaged in an all-out war. Their mission is to weaken liberal and progressive governments everywhere. They want to recreate the Weimar Republic of 1933, the state that existed before it was weakened and eventually taken over by the fascist Nazi state. So, they want to weaken liberal and progressive states. They have hit upon what they think is a fool-proof theoretical strategy to accomplish that.
They want to use the Covid 19 crisis to weaken the state. They want to sabotage the state in its attempt to manage the Covid crisis. Get your supporters to refuse the vaccine, spread false information about the vaccine, and the state, although it has the medical instruments (i.e. the vaccine) to get the pandemic under control, it will not be able to do so. The economy will suffer, businesses will suffer, workers employed by those businesses will suffer, and the state will be helpless to do anything about it. You will essentially paralyze the state. If they talk about mandates, then accuse them of dictatorial behavior, of authoritarianism. Of course, many people will get sick, many people will die, but that happens in all wars. There are the generals and there are the ordinary folks, the cannon fodder, frontline troops who go into battle and die, willingly. The generals are protected, they don't die; in this scenario, they take the vaccine themselves but encourage the front line troops to refuse it. But that is the cost of war. The frontline troops believe in the war, they die for a cause.
So that is the nature of the Covid war. Weaken the state, bring down the state, extremism in the cause of what is good is justifiable. And what about their allies, the black, brown and other non-white people who support them? Ever since white supremacy started its march towards domination of the world, way back in 1492 (remember that year?), they have courted allies in the non-white world. That is how they defeated their non-white enemies.
They could not have conquered the advanced Inca, Aztec and Mayan civilizations without their allies from among those very civilizations. Divide and rule, that has been their motto. There are those who seek their own interests only and care little about their fellow citizens, they will sell them out for their personal advancement. There are those who even sold out their brethren as slaves simply for their own personal advancement. It is still happening. So, the right-wing extremists, the supremacists, will heap praises upon you when you do things that harm your own brethren. Nicki Minaj is just the latest in that long line of sellouts.
Did you know that the spread of infectious diseases was one of the main causes of the conquest of the indigenous civilizations of the Americas?