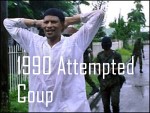 Cops were alerted about '90 uprising
The police were alerted by Jamaat al Muslimeen insurgents that they were going to blow up Police Headquarters on the afternoon of July 27, 1990. This was disclosed by Jamaat member Jamaal Shabazz yesterday as he gave evidence before the commission of enquiry into the attempted coup d'etat at the Caribbean Court of Justice in Port-of-Spain, i "The police were alerted. There was ample time, if they followed instructions, to evacuate the building," Shabazz told the commission. He said he found out after the coup the Jamaat had more car bombs which could have had a much more devastating effect but which they did not use. Shabazz told the commission Jamaat leader, Yasin Abu Bakr, was a former police officer and personally knew some senior police officers with whom he kept in contact.

…Jamaat member claims: NAR cover-up in drug find at Piarco
The alleged murder of Woman Police Constable Bernadette James after she saw former National Alliance for Reconstruction (NAR) national security ministers Selwyn Richardson and Herbert Atwell in a room at Piarco Airport with cocaine on a table was a major cause of the 1990 attempted overthow of the Government by Jamaat al Muslimeen insurgents.
…Shabazz: Drug problem justified Jamaat revolt
…Cop's death no accident
THE death of a woman police constable during an anti-terrorism exercise in Tucker Valley in 1987, was no accident, according to a high-ranking Jamaat al Muslimeen member
…Henry stands by her statement
Former National Alliance for Reconstruction minister Gloria Henry said yesterday that she stands by her statement that she saw former prime minister Patrick Manning speaking to a group of youth men on July 27, who she later recognised as Muslimeen insurgents after the Parliament was stormed.
…Manning spoke to Jamaat
FORMER National Alliance for Reconstruction (NAR) minister Gloria Henry yesterday maintained seeing Patrick Manning, on the afternoon of July 27, 1990, speaking to a group of young men who turned out to be Muslimeen insurgents at the Parliament entrance before leaving.
…Bakr set to testify
THE MAN behind the July 27, 1990 attempted coup is, next week, expected tell all about the planning of the insurrection and execution of plans to overthrow the duly elected government, when he testifies at the commission of enquiry established to investigate the circumstances surrounding the event.