By Akile Simon
Jun 22, 2011 – trinidadexpress.com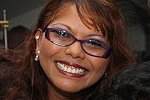 SASHA MOHAMMED, adviser to Prime Minister Kamla Persad-Bissessar, has for the first time denied that she sent threatening e-mails to Express editor-in-chief Omatie Lyder and reporter Anna Ramdass.
Mohammed, through her attorneys Jagdeo Singh, Ravi Rajcoomar and Kelvin Ramkissoon, sent a three-page letter to Commissioner of Police Dwayne Gibbs yesterday, asking what offence she committed.

The letter has come on the heels of mounting calls for Persad-Bissessar to dismiss Mohammed and the police to lay criminal charges against Mohammed after their investigations revealed that the threatening e-mails came from Mohammed's computer at her home.
Persad-Bissessar remained mum on the issue for the fifth day yesterday.
Full Article : trinidadexpress.com
Mohammed's lawyers to CoP: What's the offence
By Rhonda Rambally
Jun 22, 2011 – guardian.co.tt
Attorneys representing former senior journalist, now special adviser to the Prime Minister, Sasha Mohammed, say they have evidence she never sent threatening e-mails to Trinidad Express editor-in-chief Omatie Lyder and reporter Anna Ramdass.
A letter sent to Commissioner of Police Dwayne Gibbs, signed by attorney Ravi Rajcoomar, yesterday stated "such evidence" would be forwarded to him only on the condition he could justify the complaint was one which should have ever engaged the T&T Police Service or constituted a criminal offence known to the laws of T&T. Attorneys Kelvin Ramkissoon and Jagdeo Singh also are representing Mohammed.
Full Article : guardian.co.tt
***
PNM tells of Internet hate mail from 'Janice'
The Opposition PNM's Internet Web sites had received abusive, racist comments from an entity, using the name "Janice Thomas," before and after last year's general election and up to recently during the Reshmi Ramnarine issue, says PNMTV's Dane Wilson
Ramsamooj says Sasha should quit
After being interviewed by police, Sasha Mohammed should offer her resignation to Prime Minister Kamla Persad if she is to be any sort of asset to the PM, political analyst Derek Ramsamooj said…
Fuad begs citizens: Leave Sasha alone
***
Sasha Mohammed's Attorneys Respond
Letter to the Commissioner of Police, Dwayne Gibbs
21st June, 2011
Mr Dwayne Gibbs
THE COMMISSIONER OF POLICE
Police Administration Building
Corner Edward and Sackville Streets
Port of Spain.
Dear Sir,
*Re: SASHA MOHAMMED*
I act along with Mr Kelvin Ramkissoon and Mr Jagdeo Singh on behalf of Ms Sasha Mohammed.
My Client has instructed that it was reported in the print and electronic media of Saturday 18 June instant that you have stated that the police were continuing certain criminal investigations in the issue of certain alleged threatening email communications sent to Ms Anna Ramdass, Political Reporter to the Trinidad Express Newspaper, and to Ms OmatieLyder, Editor in Chief to the said newspaper.
It is alleged that these email communications were purportedly sent by our client, or at the very least, sent from an email address that is designated to our client and that the same were sent under a nom de plume.
Our instructions are that two police officers of the Trinidad and Tobago Police Service, namely Messrs Ajith Persad and Rennie Grant, interviewed our client on Friday 17 June 2011, and among other things, told her that the alleged email communications were traced to an IP address which was designated to her. Consequent upon the said utterances, the said officers issued a warning to our client and urged her to cease and desist from any such future conduct.
We are instructed are that even though our client was at the time represented by Counsel, remarkably, no caution was issued to her by the police as required under the provisions of the Judges Rules of Trinidad and Tobago.
Our client has further instructed that upon advice and instructions from her former Counsel, and acting upon such advice, she remained silent and but clearly denied any wrong doing on her part or any knowledge of wrongdoing and denied anything that was put to her by the police officers undertaking the interview. Further, we are instructed that despite the admonition issued by the police to her, curiously, no specific offence was identified to our client as being the subject of investigations by the police. Our client was however, then given an assurance by the police that the issuing of this warning would have brought conclusion to the matter.
The position of our client however, has been, and continues to be, that she denies knowledge about the issuing of the said purported emails to the concerned parties and in this regard, cannot be held culpable.
In this context, and having regard to the failure to identify the offence which is or was being investigated in relation to our client, we are to demand clarification on this issue so as to be in a position to better and adequately advise her on the law and constituent elements of any offence for which investigations are being pursued.
You would appreciate that procedural fairness dictates that when the police are mandated to pursue investigations into a criminal complaint, and when the stage had been arrived at to conduct an interview of a suspect, the most basic requirement of the law is that such a person must be informed of the specific criminal offence which he or she is alleged to have committed and is further required to be told that he or she is suspected to having committed the said offence.
Our instructions are that none of these basic procedural requirements were complied with in relation to our client at the interview to which our client attended on the 17th instant with the two aforementioned police officers.
You would undoubtedly agree that not every matter which is reported to the police necessarily forms the basis of a criminal enquiry. It may be that there are circumstances where the conduct complained of simply does not amount to the commission of a criminal offence known to law, and as such, the jurisdiction of the police is not thereby involved.
In the circumstances where the said police officers met with our client and issued a warning to her, there would have had to be a basis in law for them to do so. We therefore now seek clarification from you as to what is the specific offence which our client is alleged to have committed and the necessary particulars thereof.
We make this enquiry since in our respectful view, having examined and considered the factual matrix of the case, there appears to be no known breach of the criminal law for which our client can be the subject of investigation, let alone be deemed culpable so as to justify an admonition on the part of your officers. The much touted 'cyber bullying' concept is not a criminal offence in Trinidad and Tobago, and is as such an alien concept which forms no part of the laws and jurisprudence of this country. Any conduct suggestive thereof cannot therefore constitute a basis for a police investigation or offence.
Where therefore the police have determined that our client had not committed a specific criminal offence the appropriate course of action was for the investigation to have been closed with the usual recommendation of 'no further police action' or, in the usual police nomenclature, "NFPA."
It would have been wholly wrong for the police to have come to a conclusion of the commission of no criminal offence, yet proceed to issue a warning to our client. In these circumstances, our client has been advised that the action of the police in pursuing such a course of conduct was illegal and a flagrant violation of the rules of procedural fairness to which our clientis justly entitled.
Having regard to the vortex of negative publicity which the issues surrounding this matter have generated, we respectfully ask that you provide a reply to our enquiry by this missive within three days.
We hasten as well to record our utter consternation as to the appearance of our client's name on every media publication and broadcast the very day she was interviewed by the police and on subsequent dates.
Apart from being contrary to law in that our client had not been charged with any criminal offence or appeared before a court of law, the logical inference is that information with respect to this interview had been surreptitiously leaked from the police service to the media, which resulted in a veritable media frenzy as evidenced by the plethora of public broadcasts and publications that followed with tremendous prominence.
We take serious umbrage to this improper dissemination of information and call upon you to launch the appropriate investigations to determine which party or parties may have been responsible for such atransgression to the detriment of our client. It is hoped that there would be no recurrence of such a course and that every step would be taken by you to obviate such.
In closing, it would be remiss of us not to inform you that we are in possession of incontrovertible evidence that would absolutely absolve our client from any wrongdoing in this matter and prove that she did not in fact send the purported emails to the concerned parties nor had any knowledge of such.
However, such evidence will be forwarded to you only upon the condition that you can justify that this complaint is one which ought to have ever engaged the Police Service of Trinidad and Tobago or constitutes a criminal offence known to the laws of this jurisdiction.
We anxiously await your response with due promptitude.
Yours faithfully,
Ravi Rajcoomar