3 officers accused of beating man to get pin number for 'withdrawal'
Peter Christopher and Anna Ramdass
Wednesday, June 11th 2008
trinidadexpress.com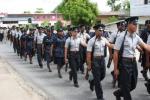 THE CAMERA of an automatic teller machine has caught three cops playing robbers.
Three police officers attached to the Tunapuna Police Station are now set to be charged with the robbery of a businessman and will face a Tunapuna magistrate following the completion of identification parades tomorrow.

Three weeks ago, the businessman, who owns a bakery, left a casino at Grand Bazaar, Valsayn, after pocketing approximately $80,000 in winnings.
The officers reportedly confronted the man as he made his way home, then allegedly robbed him of his winnings and beat him in an attempt to gain the personal identification number of his bank card, which they also took. After the businessman yielded the information to the cops-turned-robbers, the lawmen made their way to a nearby ATM. It was at the automated teller that the officers were allegedly recorded on a security camera.
The video evidence finally incriminated the officers yesterday, and they were detained and questioned in connection with the incident. Arresting officers were reportedly reluctant to approach the three officers due to their reputation. They are known to have put a dent on crime in the division.
Full Article : trinidadexpress.com