By Lara Pickford-Gordon
Monday, June 9 2008
newsday.co.tt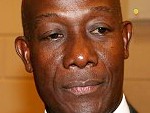 "I will take on from the PM to the cook. I don't care what office you hold in this country. I don't care what office you hold in this party. If you challenge my reputation then the war is on," Member of Parliament for Diego Martin West Dr Keith Rowley announced yesterday as he addressed supporters in his Diego Martin Constituency 4th annual conference at the Pt Cumana Regional Com-plex, Carenage.

Rowley said on matters of his reputation his children must be able to walk the streets of this country with their heads held high.
Rowley said he would not defend his reputation on the PNM platform or in Parliament but "in a court of law."
The MP who gave a fiery one and a half hour address which started just after 4 pm, touched on the allegations made against him as well as internal party matters. Rowley delivered several stinging comments aimed at Prime Minister Patrick Manning.
Rowley referred to attempts to remove him in 2006 through a report compiled by the Integrity Commission and a police investigation on "criminal conduct" and a report sent to the Director of Public Prosecutions. Rowley said he was totally unaware of these developments but his Cabinet colleagues knew "because they were behind it."
Even before the controversy with Udecott and the Centre for Performing Arts Rowley said he "expected" to be fired and knew he was "a marked man" over a disagreement he had with Manning over a project Udecott was to undertake involving Eteck, and plans to build 50 Presidential Suites at Trinidad Hilton.
Rowley said at the end of January he returned from a Caricom meeting in Guyana to be told by his Permanent Secretary of a "problem with Eteck" requiring his attention.
As Minister of Trade and Industry he had responsibility for Eteck. Rowley cited section 85 of the Constitution to support that as Minister he had "general direction and control" over the department he was assigned.
"Eteck was my department and I had constitutional responsibility for it yet my Permanent Secretary comes to me and tells me there's a problem at Eteck, Udecott has gone to Eteck with a view of having Eteck, on Udecott's behalf, commence a $240 million project at Trinidad Hilton."
Rowley said he contacted the "head of Eteck" on the phone and confirmed what the PS had said.
He also advised Rowley that Udecott's chairman Calder Hart had stated the project was to be completed in time for the Heads of Government Conference to take place in Trinidad next year.
Rowley said the Tarouba project immediately came to mind.
"I was told that Eteck was told by Udecott that this was to be done on the Prime Minister's instruction." Rowley cited a letter received by Eteck indicating this. "The Prime Minister does not talk to the Minister, I come to the country to be told of this by my PS who is told about this by the CEO of Eteck. But Calder Hart is ready to begin construction."
Rowley said he spoke to Manning during a tea break in Parliament and enquired about the project, indicating that it had not come to Cabinet. "The PM became hostile and he said to me, well we are just talking about it."
Rowley reported to Manning what he was told about him (Manning) giving the go ahead for the Hilton project to begin. Manning responded that many things are said in the name of the PM.
"I said I am not talking about many things but this specific project at the Hilton which falls under my portfolio." Manning said the project would have to go to Cabinet.
"I said the point I am trying to make is it will eventually go to Cabinet but Udecott is about to start construction. The PM got into a rage and threatened to lose his cool with me."
Rowley reminded that he had portfolio for the Ministry of Trade, and Eteck was under his purview. "I said 'I am not prepared to accept Udecott coming into the Ministry of Trade carrying out any construction programme without the involvement of the Ministry of Trade and PS.'"
Rowley said he had the temerity to challenge the PM's authority and took objection to something authorised for Udecott "because Udecott is a department of State which Ministers must not interfere with."
Responding to those who expect him to make a challenge for the leadership at the PNM General Convention, Rowley said, "No thank you." He told his constituents he was not prepared to subject himself to the charade.
He said the party's constitution had "shortcomings" which enabled incumbents to control the election process "in so far as they crave power".
Rowley said a committee under Glenda Morean which reviewed the constitution had made recommendations but they were never implemented.
http://www.newsday.co.tt/news/0,80398.html
Rowley not running against PM
Dismissed Trade and Industry Minister Dr Keith Rowley says he will not run against Prime Minister Patrick Manning for the political leadership of the ruling People's National Movement at its upcoming convention, as long as its existing election procedures are still in effect.
Hits out at Mariano Browne
Rowley waded into PNM Minister Mariano Browne and other ministers yesterday on statements they made about him and Udecott respectively.
Hinds raps ministers for 'injustice' to Rowley
There are serious problems inside the PNM, and PNMites must resolve to do what's necessary to fix them, former PNM MP and minister Fitzgerald Hinds says…