By Keith Smith
Thursday, June 5th 2008
trinidadexpress.com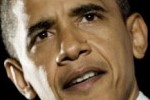 I heard one of the talking heads on CNN, Tuesday night, talking with some relish – if not awe – of the fortuitous happenstance that sees Barack Obama winning the Democratic nomination (not that Ms Clinton doesn't seem about to do her damnedest to prevent it, good sense, though, ultimately bound to prevail) on the anniversary of the very day that Martin Luther King gave his now legendary "I Have a Dream" speech.

I heard two loaders atop a delivery van, Wednesday morning, talking avidly, if not with some reverence, of the likelihood of Obama becoming "the first black president of the United States," Mr Obama being actually of mixed race, the loader's take on the accomplishment hardly misplaced given the historical American position that "if you're not white, you're black".
I remember once having to take on, somewhat testily, a would- be intellectual (and the operative word here is "would-be") who took it upon himself to take on the Mighty Duke who had had the temerity to sing about black being beautiful, the pseudo-intellectual (ha!) making out that Duke's was a racist, even Nazirist position, all peoples being beautiful be they white, yellow, black, brown or whatever.
What Duke's would-be detractor was deliberately ignoring was the fact that the calypsonian was singing at a particular historical point in time, the 60s merging into the 70s being a time when, elsewhere and here, there emerged widespread resistance to the negatives associated with the particular complexion, the colour question, of course, linked to black economic and social conditions still sadly depressed, to larger or lesser degree to this day.
Skin colour, then, continues to have both negative and positive resonance in the world, one of my friends wondering out loud, whether Obama's "blacknness", should he go on to become president, would be a factor in his dealings with other world leaders, Russia's president Medvedev, perhaps, looking askance at "this little black boy" purporting to talk to him "mano mano" across the diplomatic divide.
Continue to 'Through a maze of colour'