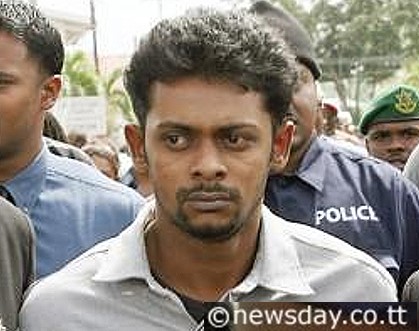 Sunil Ali (Photo Credit: newsday.co.tt)
Sunil Ali, the man charged with the murder of eight year old Hope Arismandez, has committed suicide in his cell at Remand Yard Prison, Port of Spain.

Hope's killer hangs himself
By Rhondor Dowlat
Saturday, May 31 2008
YESTERDAY evening, hours before his victim eight-year-old Hope Arismandez was to be given her final farewell, her killer Sunil Ali, 28, slashed both his wrists with a razor blade and hanged himself with a bed sheet in his prison cell at the Remand Yard, Golden Grove Prison, in Arouca.
Sources said inmates in cells nearby raised an alarm and Ali was found by prisons officers hanging from the ventilation blocks of his Number 7 cell, located at the Top Security Block on the Eastern side of the Remand Yard.
Prisons officers, police said, had checked on Ali at about 6.30 pm, but ten minutes later he had ended his life.
Police Commissioner Trevor Paul confirmed the incident and said he despatched a party of police officers to the prison for further investigations.
"Yes what you are hearing is true," he said. "He was found hanging and his wrists slit, however, the officers are at the prison and they would have more detailed information than I do at this moment," Paul said.
A prisons officer told Newsday Ali used the bed sheet on his cot to commit suicide.
The source said he tied it around a brick hole by the ventilation blocks, then tied the other end around his neck.
The officer said that Ali stood on the pail, that is used by prisoners as a toilet, slashed both his wrists with a razor blade and kicked the pail from under him.
The inmates close to his cell saw him hanging and the blood on his clothes and on the floor of the cell and raised an alarm. However, by the time officers got there Ali was already dead. He was clad in a vest and a pair of short pants.
The officers cut the body down and placed it on the floor.
Prisons Commissioner John Rougier, accompanied by other senior prisons officers, a party of senior police officers and the District Medical Officer Dr Vinod Mahabir visited the scene.
The body was removed to the Forensic Science Centre where a special autopsy is expected to be conducted today. Investigators said they could not say where Ali got the razor blade. An investigation is expected to be launched.
Asked about Ali's mood after he was brought to the prison on Thursday evening following his first court appearance at the Chaguanas Magistrates' Court that morning, the prisons officer said, "Well, first of all, we placed him in a cell on his own to avoid him being harmed by other inmates. We also monitored him at intervals to ensure that he was alright. However, I was told that last night (Thursday night) he was being mocked by inmates around him. As a result, he may have slipped into a state of depression."
The officer said other inmates told them that Ali had threatened to kill himself.
One of Hope's relatives said the family felt a sense of relief when they heard the news.
"I was relieved that Sunil decided to end his life. While Sunil should have faced justice in the court, he had taken the easy way out. When we heard the news, there was a sense of relief in the family that fate had taken charge," the relative said. Newsday was told that Hope's mother Sherma Rajoon fainted when she heard the news.
Ali lived with Rajoon and her daughter Hope at her home at Umesh Drive, Lime Head Road in Chase Village and Ali was the last person to be seen with Hope before she disappeared. Hope went missing on Saturday night last. Her small body was found on Tuesday in a canefield which runs parallel to Pierre Road, Charlieville.
She had been raped, battered and beaten and her throat slit.
Ali was questioned and taken into police custody. He was eventually charged on Wednesday night for the child's murder.
Earlier yesterday, Prisons Commissioner John Rougier confirmed that he had given instructions for special security measures to be put in place at the Remand Yard for Ali.
Rougier said the special arrangements were decided upon because of the high risk of the prisoner being harmed by other inmates.
"Ali saw how the public reacted at the court and we thought that it would be the same way that the inmates would react. It was our resonsibility to ensure that Ali was protected and that he was not injured," Rougier said.
"If anything happened to him inside the prison walls, we are responsible," he said.
Outside the Chaguanas Magistrates Court on Thursday, Ali was jeered by scores of people, mainly women. He was also threatened by prisoners who were being brought to court that morning. Many prisoners told Ali that he would pay for what he had done.
Hope's funeral service will be held today at the St Mary's Roman Catholic Church, St Mary's Junction, Freeport at 10 am. Relatives have decided against having an open-casket funeral and instead the girl's body will be placed in a sealed coffin.
Hope's body will then be cremated at the Waterloo Cremation Site in Carapichaima.
http://www.newsday.co.tt/news/0,79905.html
Hope's killer found hanging in cell
By Adrian Boodan
Saturday 31st May, 2008
guardian.co.tt
SUNIL ALI, the man charged with the murder of eight-year-old Hope Arismendez, committed suicide at the Remand Yard of the Golden Grove State Prison yesterday afternoon.
Reports revealed that Ali, 28, was found hanging in his cell. Another report revealed that he had a slit throat.
Ali's death was confirmed by prison and police officials last night.
Continue to 'Hope's killer found hanging in cell'
Child killer takes own life in prison
By Gyasi Gonzales
Saturday 31st May, 2008
trinidadexpress.com
SUNIL ALI, the man charged for the murder of eight-year-old Hope Arismandez, was found hanging in his cell at the Golden Grove Prison in Arouca shortly before 6.30 p.m. yesterday. (See Page 4)
Prison sources said that Ali, 28, was found hanging from a line in the cell and bleeding from one of his wrists, which had been slit.
He had spent his first night at the top security Remand Section of the prison in isolation from other inmates, amid threats that he would more than likely receive "natural justice immediately" if allowed into the general population, a prison officer told the Express yesterday.
Continue to: 'Child killer takes own life in prison'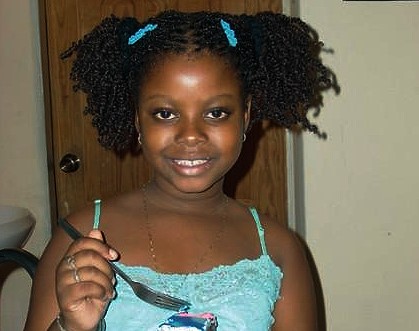 Hope Arismandez
The little girl's battered and bruised body was found in a canefield in the village of Petersfield, on the outskirts of Felicity, late last evening.
Hope was raped, buggered and stabbed to death. Her semi-nude body was left on a dirt road in the canefield, which runs parallel to Pierre Road, Charlieville.
Homicide detectives disclosed that there was a stab-wound to the anus and a knife was recovered from the canefield.
Continue to: 'Hope is Dead'