By Rhondor Dowlat
Wednesday, May 28 2008
newsday.co.tt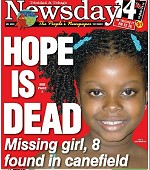 EIGHT-YEAR-OLD Hope Arismandez is dead.
The little girl's battered and bruised body was found in a canefield in the village of Petersfield, on the outskirts of Felicity, late last evening.
Hope was raped, buggered and stabbed to death. Her semi-nude body was left on a dirt road in the canefield, which runs parallel to Pierre Road, Charlieville.
Homicide detectives disclosed that there was a stab-wound to the anus and a knife was recovered from the canefield.

Investigators ASP Stanley Ramdeen, Insp Johnny Abraham, PC Sunil Ramoutar led a team to the crime scene after a 28-year-old suspect confessed to Hope's murder and told them where he had left her body. The suspect has been in police custody since early Sunday morning. Hope's mother Sherman Rajoon, 48, reported her missing from their apartment home at Umesh Drive, Lime Head Road, Chaguanas, on Saturday night.
Investigators had interrogated the suspect over the past few days at the Freeport Police Station, and yesterday he broke down and told them where he had left the little girl's body.
Investigators took the suspect with them and arrived at the canefield at about 4.15 pm. As the team searched, they found Hope lying face down on a dirt road and she only had on a pink blouse. Rajoon, her older daughter Stacey and Hope's father Ronald Arismandez were also at the scene and identified the girl's body.
Shortly after, homicide detectives gave instructions for the suspect's dump truck to be impounded and taken to the Forensic Science Centre in St James.
Officers from the Crime Scene Investigations Unit and the Special Anti-Crime Unit (SAUTT) also combed the canefield searching for evidence while Hope's body was examined by a district medical officer who had the body taken away to the Forensic Science Centre for an autopsy. Deputy Police Commissioner James Philbert and ACP Crime Maurice Piggott were also on the scene.
Earlier in the day, homicide detectives interviewed Hope's parents at the Chaguanas apartment. Hope lived there with her mother, the suspect and a brother. The suspect's truck which was at the apartment complex was inspected by ASP Ramdeen, Insp Abraham and PC Ramoutar.
Neighbours had reported seeing Hope in the truck with the suspect as he left the compound on Saturday at about 9.10 pm. Police report that the suspect returned to the apartment without Hope shortly before 11 pm.
In an interview, about two hours before his daughter's body was found, Hope's father Ronald Arismandez said he believed she was alive. He said he had a close relationship with Hope and had raised her to know that if anyone harassed her she could confide in him.
"Just a few days ago we went to KFC and we were talking but she never gave any sign that anything was wrong with her or that anybody was interfering with her. She usually would confide certain information to me. it was normal. She is very intelligent and knows what she is about and is very aware as to what is happening around her. She was taught right from wrong and knew how she was to be treated by anyone, whether they were man or woman," said Arismandez.
After the homicide detectives left Rajoon's residence, they went to the Freeport Police Station where they were met by two members of SAUTT.
After about an hour, two officers of the Crime Scene Investigations Unit left the station, followed by an E999 highway patrol car. The two SAUTT officers left shortly after and they were soon followed by more detectives who escorted the suspect from the station to a van. they then drove off in the direction of St Mary's Junction.
Fifteen minutes later it was confirmed that Hope's body had been found.
A relative at the crime scene, who did not want to be named, expressed disbelief over Hope's death. "I really don't know why an innocent child like this had to go in such a brutal and inhumane manner. What did she ever do to deserve this? She was surely an angel came down to earth straight from heaven above," said the relative.
Neighbour Michelle Orthello said Hope had spent the day with her on Saturday, while Rajoon was at work, before the suspect picked her up at about 5 pm.
" I am ripped in pieces over this, I can't believe that this is really happening. She was such a nice and pleasant girl that I loved dearly and will always do," said Orthello.
Chaguanas Mayor Surujrattan Rambachan, who also arrived at the crime scene, extended sincere condolences to Hope's relatives.
He said he was very concerned about the crime rate in Central Trinidad, particularly in remote areas where criminals hide out. He claimed 100 police officers had been transferred from the Central Division to work in Port-of-Spain depleting the manpower to protect the communities.
"If those officers weren't removed we would surely have had that 100 more manpower strength in the Central district. There are hardly any officers to frequently patrol the areas especially the areas where there are canefields still in existence. Even recently there was an announcement made that there were surveillance cameras given to Port-of-Spain and San Fernando and Chaguanas was left out. There needs to be more attention given to Central by the Minister of National Security and the Commissioner of Police, Trevor Paul," said Rambachan.
On Saturday, Rajoon, had returned to her home from work shortly before 11 pm and noticed that Hope was missing. She and tenants of the apartment complex questioned the suspect about the child's whereabouts. He told them he thought Hope was with another neighbour — Vijanti Cassie and her teenage daughter in their apartment.
Hope had called her mother at about 9 pm and told her she was watching television with the suspect. During questioning by the police, the man told two stories. He first said he went to Medford Gas Station and had his truck filled with diesel, then he changed his account and said he did not go into the station because there was a line of vehicles. He said he went to a bar and drank two beers before returning to the apartment.
http://www.newsday.co.tt/news/0,79702.html
Tragic end to Hope's story: Body of 8-year-old found in canefield
By Camille Clarke
Wednesday 28th May, 2008
guardian.co.tt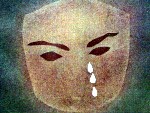 The body of eight-year-old Hope Arismandez was found yesterday in a canefield at Pierre Road Connector in Chaguanas by Homicide officers.
Police believe that Hope, of Umesh Drive, in Chaguanas, a student of the Carapichaima Roman Catholic School, was criminally assaulted.
She had been reported missing by her mother, Sherma Rajoon, on Saturday.
A 30-year-old relative of Hope is being held in police custody. Police said he led officers to her body.
A report said Hope left home on Saturday in the company of a relative, who claimed he went to buy gas at the Medford Gas Station.
However, the relative gave conflicting stories to police officers when interrogated.
The suspect first stated he bought gas, but he then said the gas station was too busy. In another version, he said he only remembered seeing Hope at her house.
Homicide officers visited the mother's home yesterday around midday and conducted investigations. Within three hours, Hope's body was found.
Investigators said Hope was clad in the pink shirt she left the house in on Saturday.
Pieces of underwear and pants were found a short distance away, investigators said.
They said the child's was found face down with stab wounds.
The relative, who was under police guard, hid in a heavily-tinted white SUV, away from the sight of reporters and villagers who gathered at the crime scene.
Hours before, the victim's father, Ronald Arismandez, and Rajoon prayed for their daughter's safe return.
However, Rajoon said she blamed the relative.
"He is to blame because I left her in his custody," Rajoon said, in an interview at her Umesh Drive home.
School principal Heather Palmer Ovid and teacher Yvette Avella visited the apartment to give support to Hope's mother.
Teddy bears lined her little bed and a bike was placed at its foot.
The mother said she had been left Hope in the care of a man.
"He did not even want her to go by a neighbour's house. He would take her everywhere he went," Rajoon said.
Nevertheless, Rajoon said the relative had been known to take occasional drinks when he got his fortnightly pay.
The mother also said Hope wanted to be a teacher and spent all her spare time reading.
Assistant Commissioner of Police Homicide Maurice Piggott said the matter was under investigation and a suspect was being held in custody.
"We will send a release later.
We do have a man in custody, who we interviewed and is being detained," Piggott said.
Mayor of Chaguanas Dr Surujrattan Rambachan said Central was under siege by the criminal elements.
"We are concerned about the bodies. Central is a hotbed of crime. There are robberies of families and murders," Rambachan said.
He added that 100 central police officers had been relocated to Port-of-Spain Division.
"Central is suffering from political vindictiveness when they should be here," he said.
Rambachan expressed his condolences to the family.