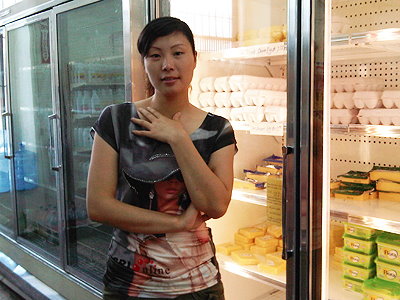 Kidnapped Chinese restaurant owner Xue Hua Shan
Cops step up search for kidnapped woman
Police probing the kidnapping of Chinese restaurant owner Xue Hua Shan said her relatives told them that the woman's mother, in China, received a text message saying her daughter was released. The text message, police said, was sent in a Chinese dialect to Shan's mother who lives in China. Investigators said they had not contacted Shan's mother and did not know if the message was true or a hoax. But detectives said yesterday that they were still looking for Shan and had no concrete evidence she had been released by her kidnappers. The lawmen said they have stepped up their search for Shan after also receiving a message from someone who called the Piarco Police Station around 6.30 am yesterday, claiming she had been dropped off near a bridge in St Helena.

Cops step up search for abducted woman
A high-profile meeting was called yesterday at the Old Police Headquarters, Port of Spain, to discuss the way forward in solving the murder of restaurant owner Anthony Chen and the kidnapping of another restaurateur, Xue Hua Shan.
April 27, 2011
Slain China Palace owner 'behind kidnapping'
MURDERED businessman Anthony Chen was identified by police as the mastermind behind the kidnapping of Chinese businesswoman Xue Hua Shan. Up to late yesterday, there was no word on the whereabouts of the kidnapped woman. Investigators probing Shan's abduction intended to arrest Chen and question him in connection with the incident after they received vital information linking Chen as the person behind the kidnapping.

Probe in businessman's murder at 'delicate' stage

Cops continue probe into Maraval murder

Senator: Where's the money coming from?
Independent senator Rolph Balgobin says there should be a police probe several questionable new businesses being established in T&T. He made the statement during his contribution to the debate on the Financial Intelligence (Amendment) Bill 2011 in the Senate yesterday. Balgobin did not say whether he had been referring to Chinese immigrants. But there has been an obvious influx of Chinese immigrants in T&T. The bill was presented for debate by Attorney General Anand Ramlogan.
April 26, 2011
Slain businessman linked to kidnapping
As police continued their inquiries into Sunday's execution-style killing of Anthony Chin outside his China Palace Restaurant in Maraval, investigators said the slain businessman was questioned in connection with the kidnapping of Chinese restaurant owner Xue Hua Shan. Chin, 61, of Hillsborough, Maraval, was murdered on Sunday morning just outside the door of his restaurant, which is located in Ellerslie Plaza. Eyewitness said two men walked up to Chin while he was on his cellphone and shot him in the chest and head.
April 25, 2011
China Palace owner killed at Ellerslie
Police have described yesterday's midday shooting of 61-year-old businessman Anthony Chin as a hit.

Businessman gunned down
A restaurant owner was gunned down in front his Ellerslie Plaza, Maraval, business yesterday, in what the police are describing as a hit. Anthony Chin, 61, owned the China Palace Restaurant at the shopping centre and lived with his wife at Hillsborough, Maraval.