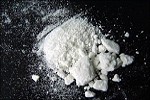 TWO Trinidadians and four Venezuelans were yesterday sentenced to life imprisonment for trafficking cocaine in what the trial judge said was the "largest amount to ever pass through the courts of Trinidad and Tobago."
Justice Alice Yorke-Soo Hon, presiding in the Port-of-Spain Third Criminal Court, took her time, more than an hour, as she sent the six guilty people to serve lengthy prison sentences for trafficking 1,749 kilos of cocaine at Monos Island on August 23, 2005.
Full Article : guardian.co.tt
'Escape of big fish alarming'
JUSTICE Alice Yorke Soo-Hon yesterday questioned why the main house at Passy Bay, Monos Island, was not searched following the August 25, 2005 drug bust which netted $700 million in cocaine.

The cocaine, weighing 1,749 kilogrammes, along with seven firearms-two rifles, three pistols , one revolver, one sub-machine gun and 247 rounds of assorted ammunition, were found in the caretaker's cabin, which is adjacent to the main house.
She said she was puzzled as to why the owners of the house, co-owned by Hue Patrick, Grace Rosemarie Fitzwilliam and Helen Forbes, "never appeared to be interviewed" by the police and "why the ownership of the drugs was never ascertained.
These were just some of the questions posed by Justice Yorke Soo-Hon as she sentenced six men to life imprisonment on Friday for offences arising out of the cocaine bust.
Apart from the questions, Justice Yorke Soo-Hon noted that "investigations fell short and it was astonishing to note that the main house at Passy Bay was not searched…" She also expressed shock at the "little or no surveillance" of the country's coastline.
Full Article : trinidadexpress.com